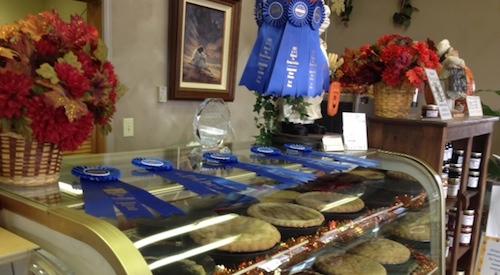 True story: The first word my son learned to spell was pie. He was 2, and it was Thanksgiving morning. It was because of his love of and demand for pie that we did the less-than-stealth "did you bring the p-i-e" thing adults do when trying to keep a secret. I still remember him saying: "What's p-i-e, Mommy? What's p-i... Is it pie?! I want p-i-e!"
He is now 10, and I've rarely seen him more excited than when I answered his "What are we going to do this weekend" question with, "Go to a p-i-e shop." He laughed, remembering the tale that always comes up around this time of year, but then got VERY excited when he realized I wasn't joking, and I assured him it was, in fact, a pie shop and not just any bakery.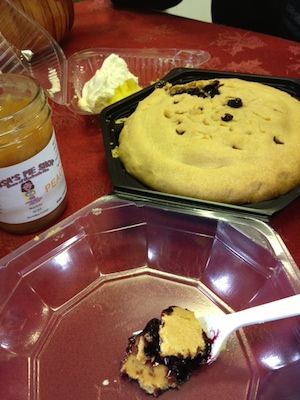 Indeed, Lisa's Pie Shop doesn't sell "just" pies, either. She sells the nation's best pies, and the walls of her Atlanta, Indiana shop are lined with hundreds of ribbons and awards to prove it. But don't just take expert pie judges word for it. You must taste for yourself! We certainly did! 
In my house, we are a fruit-pie family. But it's divided between cherry and apple. Since it's my blog, I chose apple. Dutch apple, which was piled high with a sugar-cinnamon dust that certainly is applied by fairies and not a mere mortal. Or maybe it not. Regardless, it was delicious. No ice cream needed. Even my cherry pie-preferring husband declared: the best apple pie I've ever eaten. My son was over the moon.
So then we tried the lemon meringue. It was sweet, tart, and covered with fluffiness. A delight.
So, we went on to try black raspberry, which had just come out of the oven. Again, we were thrilled, and not quite ready to stop adding to our pie buffet, so we tried a peach pie-in-a-jar. When I first saw the jars, I assumed they were pie filling that you could take home and try your hand at an inferior-crusted, semi-homemade job. I was wrong. These jars are filled with pie--crust and all. It's pretty much like they crammed a whole slice of pie in a jar and sealed it up. In fact, that's exactly what they did. It's a convenient way to transport, sure. A novelty, yes--but also quite tasty. Although at $4 to $12 a pop, depending on size and flavor, I'd stick with the fresh.
Lisa' Pie Shop is located in northern Hamilton County, at 5995 S US Highway 31, Atlanta, IN. Her shop is a small slice of heaven in which they serve big pieces of pie. If you want a particular pie, make sure you order ahead online or call 317-758-6944. There are plenty from which to choose: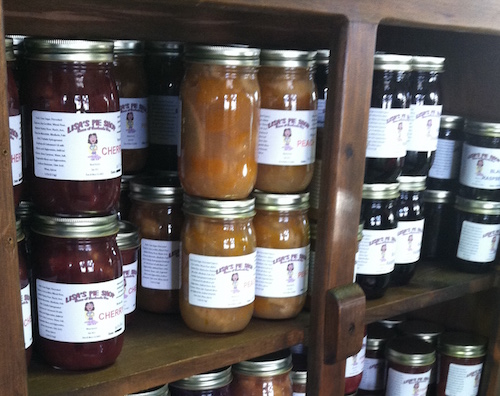 Fruit pies ($11): Apple, Dutch apple, apricot, blueberry, cherry, peach, pumpkin, rhubarb, and strawberry rhubarb.
Cream pies ($11): Banana, butterscotch, chocolate, coconut, lemon, peanut butter, and sugar cream.
Specialty pies ($13): Pecan. ($14): Carmel apple walnut, gooseberry, raisin, Hershey bar, black raspberry, and chocolate. ($25): 10" deep dish decorated famous frozen punch and chocolate caramel cheese pecan.
Pie in a jar (price varies): Apple, apricot, peach, blueberry, cherry, strawberry rhubarb, and black raspberry.
Whatever your preference, make sure you take your checkbook or plenty of cash--credit cards are not accepted, and you will likely end up purchasing more than you planned.