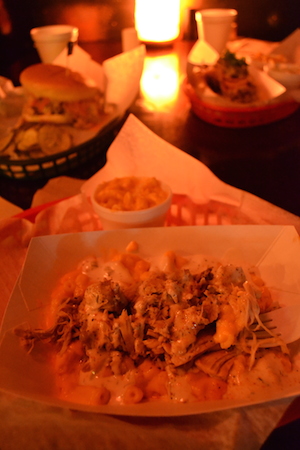 Big Hoffa's Barbecue
in Westfield has recently been the talk of the town with features on
WTHR Channel 13
and chatter on social media from BBQ lovers far and wide, including
GolfTrips.com
. Here at Hamilton County Tourism, we've long appreciated and understood the wonders of Big Hoffa's slow smoked meats. A recent visit only reinforced this love for BBQ as some of our staffers tried new dishes that go far beyond the standard pulled pork sandwich.
Jordan (of Jordan's Eats) tried the cheese-tastic Davey Jones dish that's comprised of macaroni and cheese, pulled chicken, and ranch dressing. Yes, that's three loves of any Midwesterner, combined into one tasty dish. "I love chicken and I love mac 'n' cheese and Big Hoffa's did me the favor of putting both together. The Davey Jones is topped with a drizzling of ranch and is everything I wanted in a meal."
Kate, our newest staff member, had yet to try a Big Hoffa's specialty, but enjoyed her first bold bite. "The Marley is a sandwich for those who like to go big and go BOLD! Shredded chicken topped with Big Hoffa's specialty white barbeque sauce and garnished with a heaping scoop of habanero cole slaw infiltrates every bite with a spicy kick and sweet finish. Plus, Big Hoffa's harvests many of the spices in their sauces (including habanero peppers) form their own garden, making for a freshness you can taste."
I went for something new myself, the Saigon Special. This banh-mi inspired sandwich did not disappoint. Pulled pork, pickled veggies, cilantro, jalapenos, and a drizzle of spicy mayo filled a French roll and my taste buds with joy. It was a great combination of smoky meat, crunchy sourness and spice.
You may be thinking, wow all of that sounds delicious, but what's with the sandwich names? The seascape mural-covered walls offer another clue, yep, this place is downright pirate themed. Big Hoffa's owner Adam Hoffman explains, "Pirates used barbequing techniques to smoke meat to feed their crews. Barbeque restaurant interiors featuring old license plate decor and country music get old. The pirate theme never gets old. Finding the right atmosphere for a restaurant is half the battle."
Consider that battle won, matey.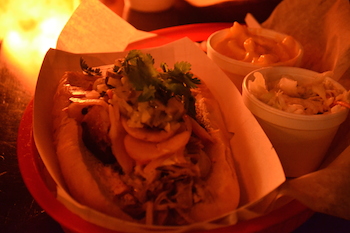 Big Hoffa's Barbecue by the numbers:
11 years in business
1 attached antique store (Main Street Shoppes)
20+ secret BBQ sauce ingredients
90 pounds of meat included in catering orders serving 200 people
5 approximate miles from Grand Park
12 hours to smoke ribs
30 hours to smoke beef brisket
25 hours to smoke pulled pork
Countless very happy customers!