Every week this winter, we will highlight one of our Hamilton County, Indiana restaurants. This week we're trying another local favorite, Kona Grill.
"Kona Grill at Clay Terrace Mall"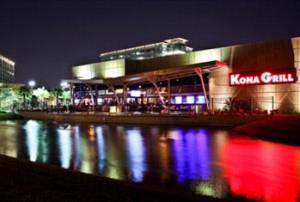 If you're in the mood for fresh fish flown in daily, Kona Grill is the place. How about pasta or wood-fired pizza? Kona Grill is the place. Sushi? Kona Grill. But the only place in Indiana you can find them is in Clay Terrace in Carmel, Indiana. If you're stopping in for lunch, you can choose from more than a dozen options on their perfect pairing menu. Select from salads, sandwiches, soups or sushi. You also can choose an entree from among their signature dishes like macadamia nut chicken, pad thai noodles or sweet-chili glazed salmon. Their sushi menu features traditional sashimi and California rolls as well as more elaborate special roll choices for the sushi lover. They even offer a gluten-free menu. Whatever you choose, when your food arrives, you'll be ready to dive right into your own plate and maybe sample something on someone else's! Fortunately, portions are generous so there is plenty to share or to take home and enjoy later. Since we went to Kona Grill for lunch, we didn't have an opportunity to sample the drink menu, including several martini options. I guess that means a trip back for dinner!