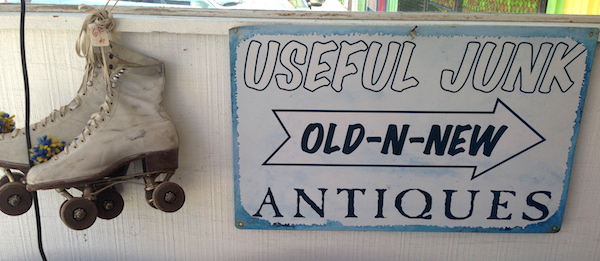 The vintage theme in decorating has become so popular, but I rarely think to look for antiques before starting a DIY project of my own. There are tons of antique stores around, so I used the new Visit Hamilton County App to find them! Even though I couldn't visit them all, I had a great time and learned a few things along the way.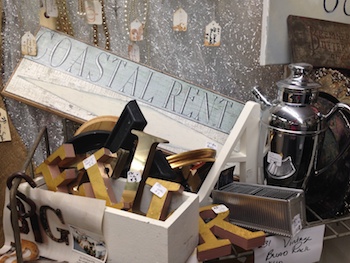 1. I will make sure to leave space for an adorable vintage desk in my next home.
2. I can find great antiques that would be more authentic (and save me time) than trying to DIY something similar.
3. Antique shopping is something that many can enjoy. (Even a 4th grader oohed and ahhed over everything)
One of the newest antique stores in the county, Upscale Junk and Antiques, is the perfect stop for travelers interested in finding that perfect statement piece to add character to a room. It is a huge building on the highway and always has tons of cars in the parking lot. Like many antique stores, the place is organized into "shops" that are owned by different sellers. Some sellers used chalkboard paint on an old door to write their name and social media info (very Pinterest-esq). 
I acted like I was in the show American Pickers- pointing out what I liked and guessing at the price tag. I also had fun finding pieces that would be perfect to add personality to a restaurant or local shop.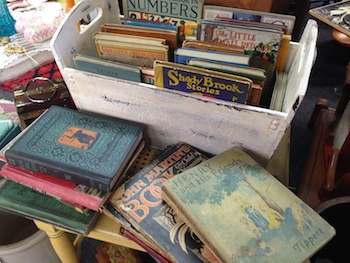 The brightly painted building, Main Street Shoppes, was next, which is connected to Big Hoffa's BBQ in Westfield. Many of those vendors were preparing for exhibiting at festivals. Down the street is The Painted Cottage, a great place for people who want vintage items that already work as Pinterest-perfect home décor. The staff members renovate pieces in the store and offer painting and card-making classes in the upstairs room.
Next up: Historic Downtown Noblesville to visit Old Picket Fence, A Corner Cottage, Noblesville Antique Mall, Logan Village Mall, and Whimzy. Whew! That's a lot of antique stores on the square! Each store has its own flair, and many sell antique items along with boutique gifts. If you are looking for true antique hunting, the three floors of eclectic items at the Noblesville Antique Mall will give you plenty to do.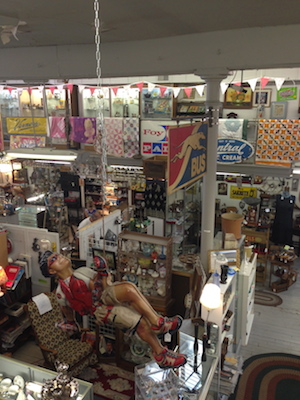 I lost track of time in Logan Village Mall because of how much I loved the displays and products sold there. One room transported me in time to an old soda shop and another room showed a video that demonstrated how to "antique" furniture with the paints that they sell there.
After all of that shopping, I had to take a break for a scoop of coconut chocolate almond from my favorite vintage-inspired ice cream shop, Alexander's On the Square. While I was there, a young girl shouted, "Wow, these chairs are really old!" ...I guess you are never far from antique inspiration in Hamilton County!