When temperatures drop and cold winds blow through Hamilton County, Doug Kemp knows he is going to be spending more time than usual in the kitchen.
Kemp owns Dooley O'Tooles in Carmel, which has been warming up patrons with a wide variety of homemade soups since 1985. Weekday mornings begin at the steam kettle, where he transforms four of his 100-plus handwritten recipes into some of the restaurant's most popular menu options. The restaurant is closed on Saturdays and Sundays.
The three soups available every day are among his most popular creations: creamy Chicken Velvet, traditional Hoosier Chili and hearty Irish Stew. Kemp gets to experiment with the soup of the day—a nice, thick corn chowder when I stopped by on a recent Tuesday.
There are no limits to Kemp's creativity—some of his more unusual offerings include Creamed Artichoke Soup and Mexican Cheese Soup—but he only has a few days to fill each week thanks to customer demand. Clam Chowder has been the Friday specialty for as long as he can remember, and the Tomato Bisque with Blue Cheese has occupied Thursday's soup-of-the-day spot for the past few months.
Like many of his recipes, the cheesy bisque came about as the result of a customer's suggestion. One of his regulars had tried something similar while traveling and urged Kemp to give it a go. It quickly won a place in the rotation.
"I create as I go," said Kemp, 60. "Somebody gives me an idea—patrons, friends, employees—or I have memories of things I ate as a kid. These aren't family recipes, but some of them are definitely influenced by what my mother and grandmother made."
His middle-of-the-road Hoosier Chili, for example, is similar to what he found on his childhood dinner table. His Chicken Velvet, which includes a dash of curry and ginger, was inspired by something he ate as a child while on vacation in Michigan. It's reminiscent of the locally famous L.S. Ayres Tearoom version, he said, even if the recipes are "very different."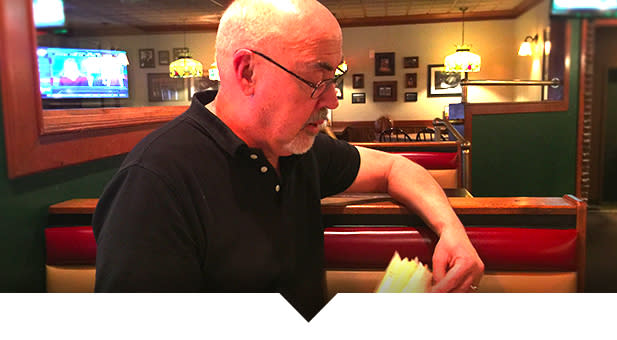 Then there are the "creative whims" that inspire concoctions such as Stuffed Red Pepper Soup or Italian Beef Soup. Whatever he comes up with, you can count on it being made from scratch from the best ingredients in the kitchen. Kemp's Southern Pork Chili starts with fresh ground pork loin, for example, and the Irish Stew is made with filet mignon and sirloin steak tips.

"I get an idea, and then I sit down and start writing the recipe," said Kemp.

Although some of the kitchen experiments don't pan out, his biggest soup-related frustration is not being able to offer the successful creations often enough. Two popular recipes are available just once a year: Irish Potato Soup is a St. Patrick's Day tradition, and Creamed Corned Beef and Cabbage Soup is a March 18 staple.

Kemp learned soup-making basics decades ago when he was going through a restaurant chain's training program. Assigned to make cream of mushroom every day for a week, he considered it drudgery. But in his own kitchen, it has become a passion.

"You can be so creative and go so many different directions with them," he said. Kemp even has been known to labor over a stockpot at home on the weekends.

Soup sales are strongest during the winter, as you might expect. Dooley O'Tooles may go through upward of 15 gallons a day when business is booming. On a recent chilly Friday, the restaurant sold out of Clam Chowder—all seven gallons—by 7:30 p.m.

In addition to the cups and bowls on soup on the menu, Dooley O'Tooles sells cold quarts of its three mainstays that customers can warm up at home. One loyal patron has picked up Irish Stew for her daughter's birthday meal four years in a row.

Kemp fields frequent requests for his soup recipes, but so far he has kept them to himself. 

"I tell them on the day I decide to retire, I'm going to write a cookbook," he said.

The big pile of recipes he keeps in a drawer likely will be much larger by then. Kemp said he loves what he does and has no plans to hang up his chef's knife anytime soon.

"I have no desire to retire," he said. "None at all."