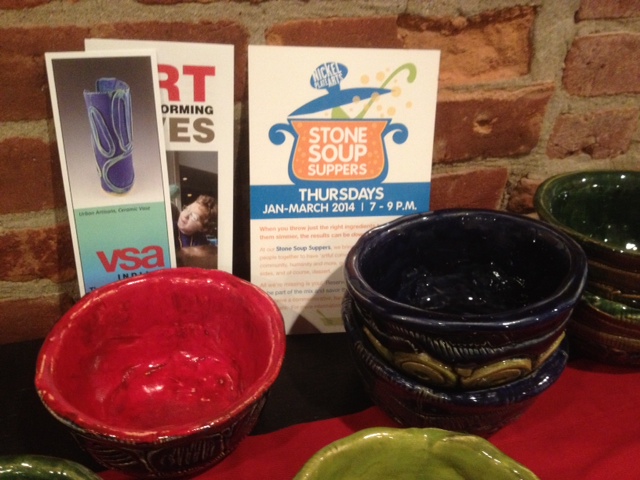 The Algonquin Round Table it isn't, but the premiere of Nickel Plate Arts'
Stone Soup Suppers
was indeed a successful, engaging and tasty event attended by a group of interesting and witty writers, artists and community supporters hungry to come together.
The idea is one long-neglected in Hamilton County, so kudos to Nickel Plate Arts for organizing these evenings so we can nourish our bodies and minds.
What's not to love about a weekly event with a primary goal of building and strengthening a sense of community around the arts in Hamilton County by engaging diners in thoughtful conversations about art, community and quality of life?! Add to that a delicious dinner and and the fact that you are supporting Nickel Plate Arts via your attendance, and you have something much better than a party; you have a community revolution!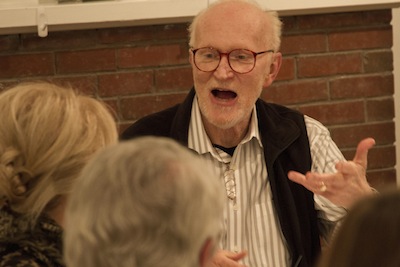 The first Stone Soup Supper, held Jan. 9, featured local celebrity chef Wendell Fowler, who introduced diners to his  passion of eating to live. Dinner consisted of his own recipes, including red lentil coconut curry soup, a salad of dark greens, gluten-free bread and a raw-nut and berry crumble with coconut whipped cream, but featured the handiwork of nearby Rosie's Place.
Fowler shared with us his research and struggle to become healthy, which he attained by more mindful eating and refocusing his view of food from entertainment to medicine. Fowler insists we are killing ourselves with our forks, and offered thoughtful suggestions on making the series of steps needed on the path to better health, including, "The less you do to your food, the more it does for you." (Think less-processed, natural foods that include plenty of raw items.)
It was clear diners walked away feeling empowered to make needed changes in their diet, but another change also was apparent: People long to belong, and this is a delightful place to do so.
Stone Soup Suppers will be held 7-9 pm each Thursday through March at Nickel Plate Arts in downtown Noblesville. The cost is $50. The schedule of discussion topics and featured guests includes something for everyone.
Oh, and in addition to feeding our community and your body, mind and soul, you also get to take home your one-of-a-kind hand-made soup bowl created by VSA artists!