This blog was contributed by storyteller Celestine Bloomfield who will be telling at the Summer Porch Tales on June 6 and June 27.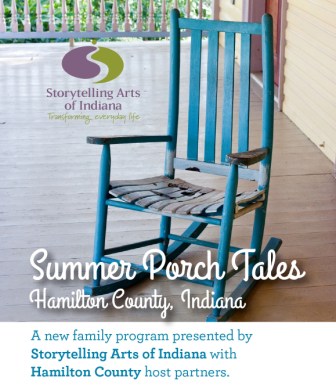 The beauty of storytelling is that one good story leads to another. You don't have to be Scheherazade to tell a good tale and everyone has a story to tell. My journey into storytelling began in grad school when I told my version of "The Three Little Pigs" while creating a filmstrip. Filmstrips are obsolete but I am still telling this urban folktale, "The Real Story of the Three Little Pigs".

The media center in my first elementary school had shelves of books minus their colorful book jackets and I used storytelling as my advertising gimmick to connect the students with the stories. I challenged my students to find the tales I told in the folklore section. While sharing literature, I might read the same story seven times in one day. By the last classes, I found myself telling the story without the book and thus my storytelling began.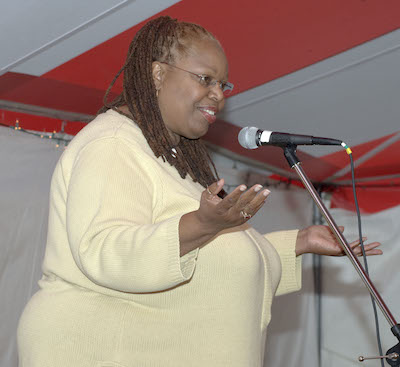 People often ask me what kind of stories do I tell and my answer is always, "I only tell the stories I like." I like stories from all cultures, but something has to grab me in the story. Something has to speak to me. Watch the audience in any storytelling session and see where the audience smiles in unison, laughs in unison or even groans in unison. We can relate to the story because it has happened to each one of us and we know how that feels. We are more alike than different and world folktales are perfect vessels to illustrate this. Because I am an African American woman, it certainly shapes my telling but I love to respectively share stories from other cultures.

My mission is to encourage everyone to tell tales. Stories are for all ages and we need to be sharing them. It does not have to be from a book. Tell your family history before it is forgotten and lost. I remember my Uncle Ernest talking about his service in World War II and being in Italy. Talk about how you met your spouse. Did you get to Indiana via Ellis Island or Route 66? Where did you grow up? What did you and your brothers and sisters do for fun? Describe your school days. Share your grandmother's peach cobbler recipe and tell the story about how you ate too many peaches or strawberries or scuppernong grapes.
I will do anything to tell a story. I will sing. (And I cannot sing!) I will draw. (And I definitely cannot draw!) I will do anything to tell a story and I want you to join me.
Experience the magic of storytelling this summer at the Summer Porch Tales series presented by Storytelling Arts. Two 30-minute performances at each location will delight audiences of all ages. Different stories will be told at all venues, so visit one or all!
Summer Porch Tales at Nickel Plate Arts
Nickel Plate Arts Campus, Noblesville
Saturday, June 6 at 4 p.m.
Storytelling Arts Presents: Summer Porch Tales in Westfield
South Mill Street, Westfield
Saturday, June 13 at 4 p.m.
Storytelling Arts Presents: Summer Porch Tales at Historic Ambassador House
Ambassador House, Fishers
Sunday, June 21 at 5 p.m.
Storytelling Arts Presents: Summer Porch Tales at The Monon Depot
Monon Depot, Carmel
Saturday, June 27 at 4 p.m.