If you haven't yet made Valentine's Day plans, you are not too late! Whether you are a couple celebrating your first Valentine or you've been together for years, Hamilton County, Indiana's 8 Great Towns has you covered with "Sweet Ideas" for an affordable, but romantic, weekend getaway filled with deals and Valentine's Day specials.
Visit our site to plan the perfect Indiana getaway filled with romance and fun without breaking the bank. From dinner and dancing, to hotel packages that include a bottle of sweet champagne, or a simple dinner out - there is something for everyone to make their Valentine feel special.
Plus, we've saved you from buying one of those $5 Valentines Day cards! Check-out the card below; you can print this off and personalize the card before the big day!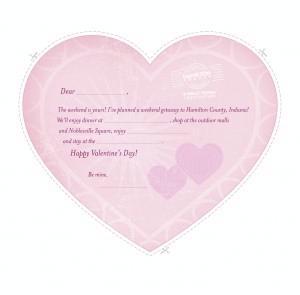 -Ashley Ledford, Marketing & Promotions Director