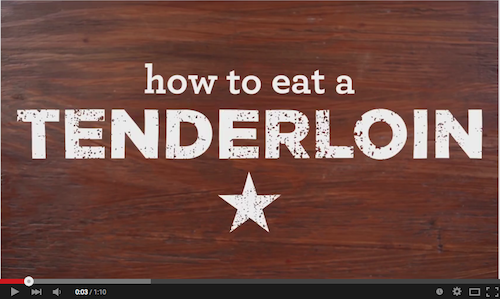 Oh, tenderloin sandwich. How do I eat thee? Let me count the ways. (Because there are so, so many!)
Sometimes people get stumped when it comes to taking that first bite of the notoriously huge tenderloin. It's a beautiful problem to have, really...all that crispy, juicy tenderloin uncontained by a seemingly small bun. If you've experienced a twinge of hesitation before diving in, you're not alone. You're in great Hoosier company.
While there's no wrong way to tackle the tenderloin, there are certainly a few tried-and-true methods. Take note:
Edge It
Grab a fork and a knife and eat the overhanging edges of the tenderloin first. Once it becomes a manageable size within the bun, pick it up and proceed. (*My personal favorite!)
Try it: Nickel Plate Bar & Grill serves up an edger's delight with plenty of meaty goodness hanging off of the bun. Click here for Nickel Plate's Tenderloin Tuesday deal. 

Stack It
Remove the bun and cut the tenderloin in half. Stack the halves back inside the bun and enjoy a double-thick, twice-as-nice sandwich.
Try it: Dooley O'Tooles serves a monster tenderloin, to eat it all at once this method is almost a must! Click here for Dooley O'Tooles Tenderloin Tuesday deal.
Halve It
Leave the overhanging edges as they are, but make it easier to handle by slicing the whole sandwich right in half. Easy yet effective!
Try it: Try this tactic with the tenderloin at Courtney's Kitchen by assembling the sandwich, cutting it in half, then conquer one half at a time. Click here for Courtney's Tenderloin Tuesday deal.
Just Do It
Throw caution to the wind and attack that bad boy JUST the way it is.
Try it: Dive in to the crispy tenderloin from Grand Junction Brewing Company this way and wash it down with one of their craft brews. Click here for Grand Junction's Tenderloin Tuesday deal (which fun fact- is only available on Wednesdays because they are closed Tuesday for brewing!). 
Undoubtedly, the hand-breaded pork is the star of the show. But a few simple "fixings" piled on top only make the show better! Classic tenderloin toppings include lettuce, sliced tomato and red onion, although dill pickles and a swipe of mayo (or yellow mustard) are also welcome additions.
Hamilton County, Indiana is home to the beloved Tenderloin Trail and great news for tenderloin lovers-specials run from June 30-July 28! Be sure to take advantage of Tenderloin Tuesdays at tons of locations across our 8 Great Towns. Delicious deals are waiting!
Enter to win a gift card to try a tenderloin! Gift cards for Dooley O'Tooles, Courtney's Kitchen and Nickel Plate Bar & Grill are up for grabs. Winners will be announced on July 2.