With over 45 restaurants in Hamilton County offering the Hoosier specialty tenderloin sandwich, there's reason to celebrate! Tenderloin Tuesdays are a great way to try a tenderloin at a new restaurant, or even try a tenderloin if you've (gasp!) never had one before. The participating eateries below are offering special deals each week through the end of July.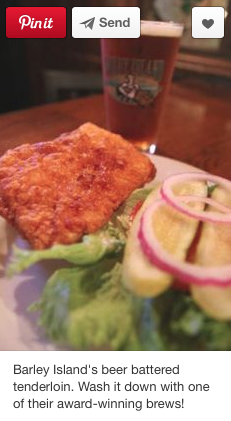 Barley Island Tenderloin Tuesday Special
Barley Island in Noblesville
$7.50 for house favorite beer-battered tenderloin served on a bun with a side of chips.
Insider tip: Wash your tenderloin down with one of Barley Island's award-winning beers like Dirty Helen Brown Ale.
Brunchies Tenderloin Tuesday Special
Brunchies in Carmel
Buy Brunchies tenderloin for $7.75 and receive a free side of slaw and a drink.
Conner Prairie Tenderloin Tuesday Special
Conner Prairie Interactive History Park in Fishers
Breaded Pork tenderloin either topped with a Cajun mayonnaise sauce or have it on the side, served on a corn dusted Kiser roll with lettuce, tomatoes, onions and pickle spear. Add cheese for $0.50. Choose between cole slaw or chips and get a medium fountain drink for $7.99. 
Courtney's Kitchen Tenderloin Tuesday Special
Courtney's Kitchen in Noblesville
Buy Cass's hand-pounded, fresh breaded tenderloin ($7.95) or Petite homemade tenderloin ($6.25) receive free upgrade to hand-cut fries plus a free piece of homemade sugar cream pie. For dine in only.
Insider tip: Whether you're ordering the regular or petite, you'll still need an action plan for tackling this tenderloin. Here are some tactics.
Dooley O'Tooles Tenderloin Tuesday Special
Dooley O'Tooles in Carmel
Mini tenderloin with soup or side and chips for $7.50.
Ginger's Cafe Tenderloin Tuesday Special
Ginger's Café in Noblesville
Grilled or breaded tenderloin sandwich, chips, pickle and a side item for $9.95.
Insider tip: Show up early to ensure you'll get a tenderloin special at Ginger's, they've been known to sell out!
Grand Junction Brewing Co. Tenerloin Tuesday Special
Grand Junction Brewing Co. in Westfield
For $7.95, the GJBC Tenderloin is an Indiana classic that is locally-sourced and hand tenderized. Served with your choice of beer-battered pub fries, sweet potato fries, or a small house salad. This offer valid only on Wednesdays.
Grille 39 Tenderloin Tuesday Special
Grille 39 at the Renaissance Indianapolis North Hotel in Carmel
$1.00 off the Grille 39 tenderloin sandwich
The Hamilton Tenderloin Tuesday Special
The Hamilton Restaurant in Noblesville
Grilled pork loin served with lettuce, tomato & mayonnaise on Italian sub bun. Free beverage when you mention Tenderloin Trail Promo.
Insider tip: Save room for a giant slice of The Hamilton's classic hummingbird cake.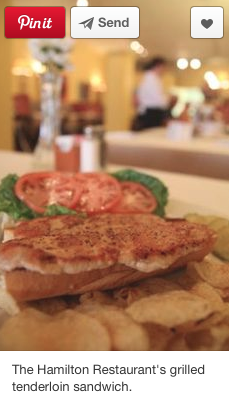 Lazy Frogg Tenerloin Tuesday Special
Lazy Frogg in Cicero
Purchase a grilled or breaded tenderloin with a beverage (other than water) and receive a free dessert.
Mrs. G's Tenderloin Tuesday Special
Mrs. G's Taste of Home is a mobile food truck that will be at Saxony each Tuesday.
1/2 pound tasty tenderloin with fresh cut fries for $8.00. This food truck will be at Saxony Lake & Beach.
Insider tip: Bring your beach bag and enjoy some rays at Saxony Lake & Beach before or after enjoying your sandwich.
Nickel Plate Bar & Grill Tenderloin Tuesday Special
Nickel Plate Bar & Grill in Fishers
Breaded, grilled or Cajun style tenderloin with your choice of side dish for $7.99.
Sahm's Tenderloin Tuesday Special
Sahm's Restaurant and Bar in Fishers
Buy one tenderloin and get a second one at half price.
Insider tip: Take a slice of coffee cake to go after your meal, you'll thank me later.
Stacked Pickle- Carmel Tenderloin Tuesday Special
Stacked Pickle in Carmel
Bring offer in for 20% off tenderloin sandwich.
Woodys Tenderloin Tuesday Special
Woodys Library Restaurant in Carmel
Choice of kettle chip crusted, blackened or grilled tenderloin served on a Parker House bun with choice of side for $8.45.
Where is YOUR favorite tenderloin sandwich served? Follow and add to the tenderloin talk by using #TenderloinTuesday.  
Enter to win Tenderloin Tuesday gift cards from Ginger's Café or Brunchies!