When you live just a mile from a bar that makes one of Indiana's 10 best tenderloin sandwiches, it's hard to make the case for experimentation. So even though I've meant to explore more of Hamilton County's Tenderloin Trail, my taste buds always steer me to the same spot.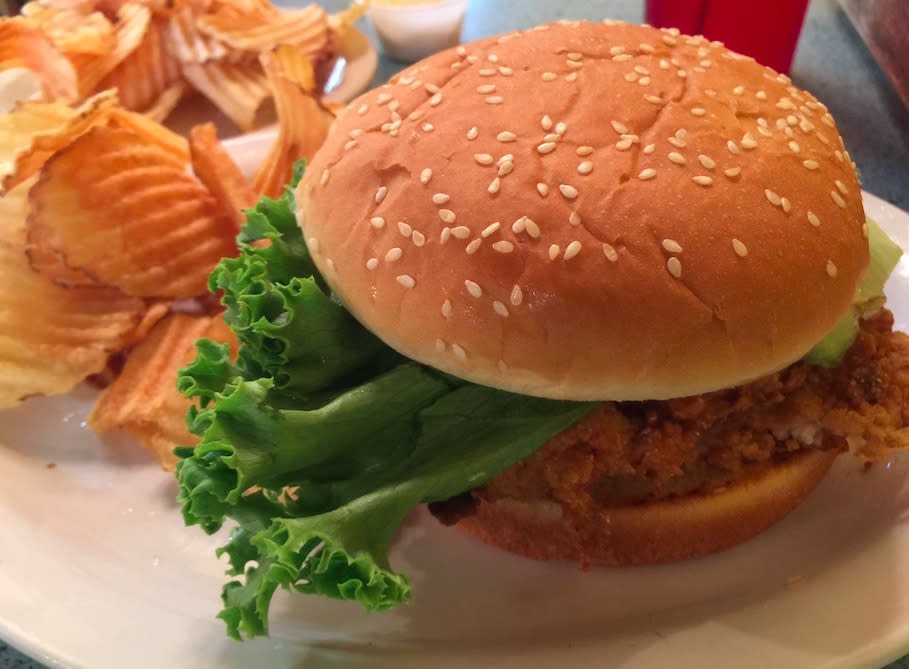 That is, until an assignment from Hamilton County Tourism sent me to Erika's Place in Westfield. If I've been missing out on tenderloin this good, I need to expand my horizons! (If only that didn't mean I'll also need to expand my pants.)
Located in the heart of downtown Westfield, Erika's serves breakfast and lunch in a friendly, no-frills atmosphere. I stopped just before noon on a Friday while in between meetings and got a seat right away, but there was a short wait when I left about 45 minutes later.
Everything on the menu looked good, but I knew what I wanted: the homemade, hand-breaded tenderloin ($5.99) marked with a star to signify its status as one of Erika's signature items. I added a side of "frips," thick, house-made potato chips, for 99 cents.
I had second thoughts about the chips when the server delivered my platter of pork—a thick expanse of golden brown delight spread across both halves of its sesame seed bun. Clearly a doggy bag was in my future.
After a brief strategy session, I employed the "divide and conquer" technique to attack my prey, cutting the tenderloin down the middle and stacking the two halves on top of each other. The mayonnaise I put on the bun probably counteracted the lettuce and onion, but at least the plant kingdom was represented in a small way.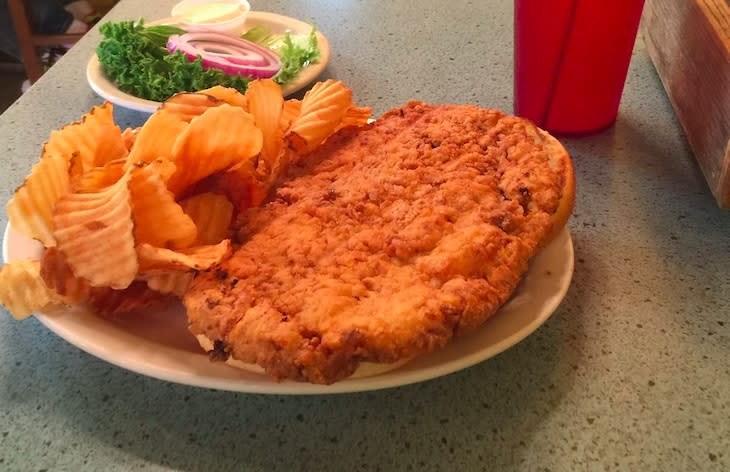 The rest of my meal is a hazy blur of happy memories: the tasty, crunchy breading surrounding succulent pork, the soft bun providing a nice contrast in texture, the occasional vinegary kick from a swipe of mustard.
Before long, I had a mostly empty plate and a twinge of regret that I hadn't given the frips their due. Oh, I'd nibbled a few when they first arrived, still warm from the fryer, but after a few bites of my sandwich I knew I needed to make a choice.
The leftovers made it to my car, but not all the way home. Turns out frips make a nice post-meeting snack—and they're easy to eat while driving. I'll keep that in mind next time I leave my comfort zone for a trip down the Tenderloin Trail.
Erika's Place has two Hamilton County locations: 102 S. Union St. in Westfield and 40 W. Jackson St. in Cicero.  They are among the 20 restaurants offering special deals through July 26 as Hamilton County, IN, celebrates Tenderloin Tuesdays along its Tenderloin Trail. Follow #TenderloinTuesday to see all the tasty tenderloins. Plus, tag your own pictures on Facebook, Twitter and Instagram with #TenderloinTuesday for your chance to win tasty gift cards!