Outdoor concerts are the essence of summer. Summer concerts bring fans with tans and headlining bands together in perfect harmony while the striking sunset sets the whole scene.
"What we're seeing is that the music festival is becoming one of America's favorite summer pastimes," said Martina Wang, the head of music and entertainment for Eventbrite in an interview with CNBC.
At Noblesville's Klipsch Music Center, in Hamilton County, every summer concert feels like a festival. As the largest outdoor concert venue in the Midwest, hundreds of thousands of fans flock to Klipsch every season to watch the biggest names in country and pop music perform on a stage that has seen everyone from Luke Bryan to KISS to OneRepublic.
As the lawns start to green and tickets begin flying out the box office window, here is a look at what to expect from the first concerts of the season at Klipsch:


Saturday, May 16 - Lady Antebellum: Wheels Up 2015 Tour with Hunter Hayes & Sam Hunt
What to wear: Cowboy hat and boots
What to listen for: Fans of Lady A should listen for the 2014 hit single "Bartender" along with top picks from their latest album "747." Hunter Haye's classic country love song "Wanted" is still one of his top downloaded songs on iTunes, eclipsed only by "I Want Crazy." Country newcomer Sam Hunt's "Take Your Time" and "Leave the Night On" are sure to cause an eruption of applause from the boot scootin' audience.
Thursday, May 28 - Lana Del Rey
What to wear: flower crown headband or vintage tee
What to listen for: Lana's unique sultry sound has graced many a movie soundtrack, including "Young and Beautiful" featured in "The Great Gatsby" and "Once Upon a Dream" featured in Disney's "Maleficent." Her hit single "Summertime Sadness" is a crowd pleaser as well as "West Coast" from her brand new album Ultraviolence, which was just released this February.
Saturday, May 30 - Rascal Flatts with Scotty McCreery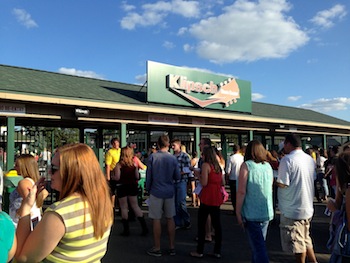 What to wear: baseball cap and plaid shirt
What to listen for: Rascal Flatts is no newcomer to the country music scene, with a list of chart topping singles longer than the Mississippi River. Fans can expect classic favorites like "What Hurts the Most" and "My Wish" along with new songs from their most recent album like "Riot" and "Rewind." American Idol alum Scotty McCreery will woo and wow audiences with hits "The Trouble with Girls" and "I Love You This Big."
Get your tickets now to start your summer singing along with show stoppers and chart toppers in May at Klipsch! Enter to win tickets here: