Tuesdays on the Tenderloin Trail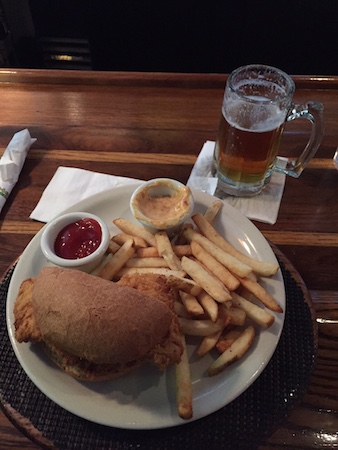 With the possible exception of roasted corn-on-the-cob, there's no food more Hoosier than the breaded pork tenderloin. Luckily, there's no shortage of places in Hamilton County to find the fried delicacy. 
Hamilton County's Tenderloin Trail lists 46 bars and restaurants in the county serving the sandwich. Keep an eye out for the #TenderloinTuesday specials at many of the locations. Tackle Hamilton County's tastiest trail with the Tenderloin Passport.
Tenderloin aficionados fall into two camps - those that prefer their pork cut thick and those who prefer it thinner and folded over. Among the places to find the former, you can check out CR Heroes. Tucked away in a nondescript strip center near Geist, CR Heroes has a definite "Cheers" vibe -- the wait staff knows most of the patrons walking through the front door. And it's no wonder the same folks keep coming back - the tenderloins are thick cut and juicy, with perhaps the perfect ratio of breading to pork. The breading had a bit of spice to it, as did the accompanying garlic mayo.
The Nickel Plate Bar and Grill, also in Fishers, is renowned for their version of the tenderloin. The center-cut pork may have been a touch thicker than CR Heroes. The sandwich breading is a bit thinner, but with a touch more heat. On Tenderloin Tuesdays, order a breaded, grilled or Cajun style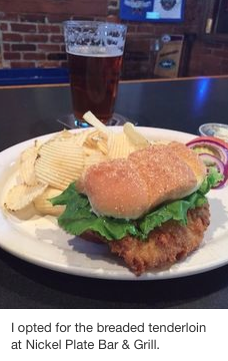 tenderloin with your choice of side dish for $7.99.
For the folks who prefer a thinner tenderloin, Muldoon's in Carmel's Arts & Design District, is worth a visit. Joe's Butcher Shop next door supplies the meat for the sandwiches, which are made fresh each day. One bite, and you'll be in hog heaven.
Don't let Dooley O'Tooles may sound Irish, but the tenderloin is 100 percent Indiana. The pork slab is almost too thick to fold over, but it's definitely worth the effort. On Tenderloin Tuesdays, try a mini tenderloin with soup or side and chips for $7.50.
These restaurants will get you through the first four Tenderloin Tuesdays, but you should really sample the 42+ other restaurants on the trail to find your personal favorite and try one of the 14 Tenderloin Tuesday deals available June 30- July 28.
Enter to win a Tendeloin Tuesday gift card to The Hamilton or Stacked Pickle in Carmel: