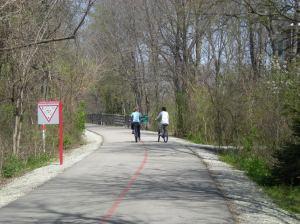 Have a friend who lives in
Hamilton County, Indiana
and want to visit, but aren't sure what to do while you're here? Or do you have a relative coming to visit and you want to be sure to show off the great places central Indiana has to offer? There are plenty of opportunities to visit with your guests while getting the most out of the community.
If you have an active friend, you will definitely want to check out the Monon Trail. I recently walked along the Carmel portion with my brother. It was the perfect atmosphere for conversation, with trees forming a canopy over the trail and many smiling faces going by as we walked. You could even rent bikes from the Carmel Cyclery and go on a lengthier trip around the trails in Carmel and Westfield. 
The Carmel Arts and Design District intersects the Monon. A stroll through the district will lead you to many galleries featuring local artists' work your art-loving friend will enjoy. Gazing at some of the art is the perfect way to be exposed to more of the state because many artists draw, paint, or photograph local scenes. Stop in some of the boutiques for a variety of unique gifts and fashion. For more shopping, bring your fashionista friend to one of the nearby malls.
Conner Prairie is a huge draw for tourists, and locals love to visit again and again, so why not bring your visitors here? It is truly a unique experience not found in every city. Upon entering the park, guests are transported back in time to a settlement from the 1800s, and you are included in the happenings around the town. There's also an animal barn, an area dedicated to learning about the civil war, and tethered balloon rides. This destination could fill an entire day if you tack on the nature trail and indoor exploratory exhibits.  Also many special events are happening for the upcoming holiday season, check the Conner Prairie website for details. 
Let your foodie guests enjoy the tasty tenderloin, chicken tenders, and burgers that are famous around here. Take them to Bub's Burgers and Ice Cream to try the Big Ugly Burger (as seen on Man V. Food), Woody's Library Restaurant, which was converted from a library to a delicious neighborhood pub, or Nickel Plate Bar and Grill, known for chicken fingers, fried pickles, and giant tenderloins. My guests have raved about the delicious meals at Nickel Plate, and the quirky rooms in the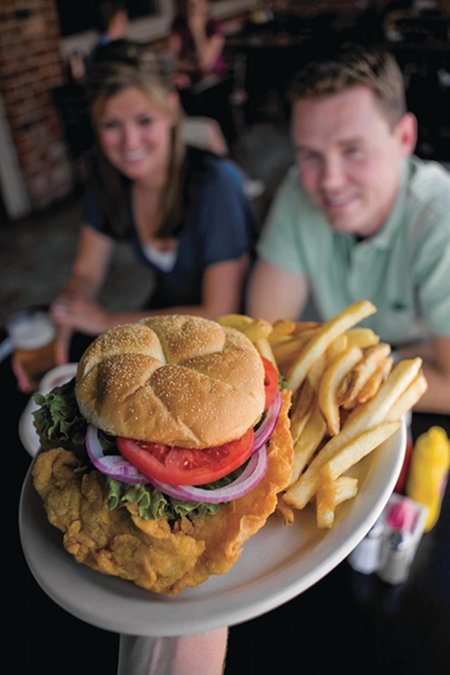 restaurant make a great atmosphere. Each of these restaurants is locally owned and has friendly, down-to-earth service, while serving fresh, high-quality food!
If you want to enjoy a musical night at a world-class venue, take them to a performance at the Palladium. This elegant music hall hosts all kinds of entertainment from classical, bluegrass, dance, and country events.
Whether you're the visitor or have a guest, you don't have to scratch your head to come up with things to do.  Check out this list and take a look at the events calendar for the week of your visit too!