As we have previously mentioned, we have Visitor Centers in Carmel, Noblesville & Fishers. These centers are staffed by great Hamilton County and Central Indiana residents who offer advice, ideas, trip suggestions, directions, brochures and a broad knowledge base to those visiting Hamilton County, Indiana. We recently asked them what they would do as a Hamilton County visitor - over the summer, I will be sharing their thoughts on the blog. Enjoy!
"Fall is here at Cool Creek Park in Westfield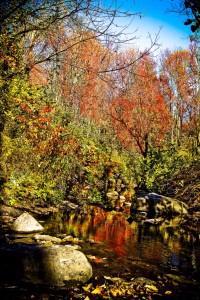 Visitors Center Staffer, Trey, was asked how he would spend a fall weekend in Hamilton County, Indiana:
A Fall Day in Hamilton County Over the many, many years I have lived in the great town of Westfield, I have enjoyed loads of fun-filled experiences during the Fall months in Hamilton County!  From the pumpkin picking at Stonycreek Farm, to the Headless Horseman adventure at Conner Prairie, there are many great activities to experience during the Halloween season!  One of my favorite experiences would have to be the Haunted Trails at Cool Creek Park.
Last year I brought a group of friends to Cool Creek to experience the Haunted Trails for my 2nd or 3rd year. As we waited in line watching Michael Jackson perform Thriller on a screen they had set up, our group of friends became larger and larger within minutes! The Volunteers for the haunted trails were selling popcorn, cookies, and delicious hot chocolate to everyone who were waiting to endure the spooky night in the woods. Finally, it was our turn to head into the darkness. The night became better and better after that. The trail was exciting and creepy, and the campfires stories after were a blast. They also had hot cider and many Halloween treats for everyone to grab before taking the hayride back to the front of the park. It was a night I will never forget, in Hamilton County!
**For more Hamilton County, Indiana trip ideas, visit us online at VisitHamiltonCounty.com.