Take a leisurely canoe or kayak ride along the White River, and there's a sense that time stands still. Some of the most unseen natural treasures of Hamilton County can be spotted along the river's edge – a lone heron, a flock of geese, a turtle sunning on a log, a red-winged blackbird flying among the cat tails and even an occasional bald eagle soaring above the water.
Early settlers who traveled the waterways in search of food and shelter may very well have spotted the same wildlife. And later on, the White River was a mainstay for an economic boom – offering growing opportunities for local commerce.
Today, that same waterway is at the heart of connecting a community. And plans are in the works to enhance what is one of Hamilton County's greatest outdoor assets – named for its pristine and sandy bottom. The White River's timeless beauty is about to become an artery for tourism growth.

Booming Business
That growth is no surprise to Brian Cooley, president of White River Canoe Company. Years ago, he and his wife Lesa took their three boys, Matt, Brian and Andy - then ages six, eight and 10 – on a canoe trip along the White River. Now, Cooley is in his tenth season of ownership of the White River Canoe Company and his youngest son, Andy, manages customer relations.
"We started off with 20 kayaks and 50 canoes and now we have 100 canoes, 100 kayaks and 500 tubes," said Cooley. They average about 600 visitors a day and have as many as 1,000 during holiday weekends.  
White River Canoe Company includes 28 miles on the White River in Hamilton and Madison Counties from Perkinsville to Fishers. Up river trips depart and end on River Avenue in Noblesville. Lower river trips end at Wapahani Landing at the 116th Street Bridge in Fishers/Carmel. Shuttle service transports visitors back to the River Avenue parking lot. The company offers up to six launch points including Lafayette Trace/Perkinsville (6-8 hours), White River Campground (3.5-4.5 hours), Rusty Oar (2.5 hours), Lower River Half Day, 4-5 hours) and Lower River Full Day (7-8 hours).
As the business continues to thrive, Cooley is keeping his eyes open to expand.
"I think that municipalities will continue to partner with private land owners or secure land and we'll continue to develop a park system along the river. It's about connectivity," said Cooley.
A Vision for the Future
Development plans for the White River describe a shared vision between Marion and Hamilton Counties starting at Lafayette Trace north of Noblesville and traveling 58 miles down through Indy's Southwestway Park.
Specific plans highlight favorite locations for Hamilton County residents and visitors alike:
New trails at Strawtown Koteewi Park – connecting Potter's Bridge Park to Cicero and including a viewing tower and expanded kayak and canoe launches.
Enhanced river access with terraces and shady viewing areas along downtown Noblesville.
Improved pedestrian crossings to Conner Prairie's natural areas.
Year-round activities such as ice-skating and other seasonal sports.
When dreamers dream, they dream big. And planners point to similar projects where dreams became reality - like the Mississippi River that incorporates 16 miles in the park's Great River Passage or the Los Angeles River that showcases 51 miles of riverfront views.
"One of the biggest things to drive success will be educating people that this is safe in terms of water quality and outdoor recreation," said Cooley. "We are within 60 minutes of 1.6 million people so we just need to continue to get the word out that Hamilton County is one of the best places to enjoy the White River."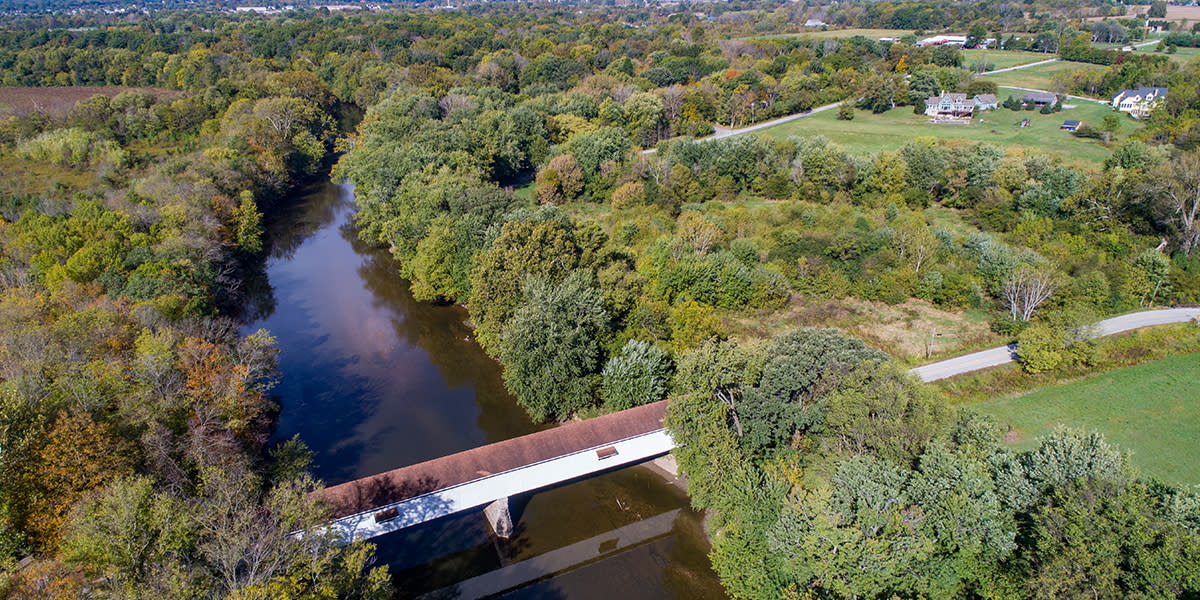 Connecting to the River
So far that plan seems to be working. The bulk of visitors to the White River Canoe Company come from Indianapolis and suburban north but Cooley has also seen a number of out-of-town guests.  
"Lots of people come to Grand Park for games and have come here when they have downtime. During Memorial Day Weekend we had guests from as far away as Puerto Rico who were in town for the Indianapolis 500," said Cooley.
On a recent Saturday, Kallie Poast had traveled from Ohio to meet a group of nine friends. They were celebrating Poast's birthday by kayaking the Rusty Oar trip. "It's a convenient location and it's a great way to get everyone together," said Poast. The kayaking trip is an annual event for the friends.
And similar to Cooley's first family trip along the White River, Ben and Adrienne Johnson of McCordsville were preparing to launch with their three children Caleigh, 12, Delia, 10, and Eli, 7.
"We've done a lot of fun family activities this summer and we love to camp and hike and be outdoors," said Adrienne. "We waited until the kids were old enough to canoe. It's great to have something so close and accessible."