As much as I enjoy the field-fresh fruit and veggies that are the star of Hamilton County's summer farmers' markets, there's something to be said for the stick-to-your-ribs heartiness of winter market fare.
Bread. Eggs. Meat. Cheese. Sweets. Even wine. Throw in a gallon of milk and you'll be ready for the first big snowstorm of the season. (Oh, and you can find some winter vegetables too, if you're into that kind of thing.)
Here's a guide to stocking up at winter markets in Hamilton County, Indiana.
---
510 3rd Avenue SW // 9 a.m. - noon // Saturdays through March 30, 2019
Located in the Wire Factory—the former Woods Wire plant in Carmel's up-and-coming Midtown neighborhood—the winter market is making the most of the large industrial building. More than two dozen vendors have signed on to sell an array of Indiana-produced agricultural products.
Pick up some freshly baked artisan German bread from Brotgarten, made-at-the-market guacamole from Guacamole and More, and maple-bourbon bacon from Old Major Market—if you can get there before it sells out.
Ready-to-eat options include summer favorite The Walking Waffle Co., 3 in 1 Restaurant's tamales and Riblets' mouth-watering barbecue. And there are plenty of baked goods to choose from if you have a hankering for dessert.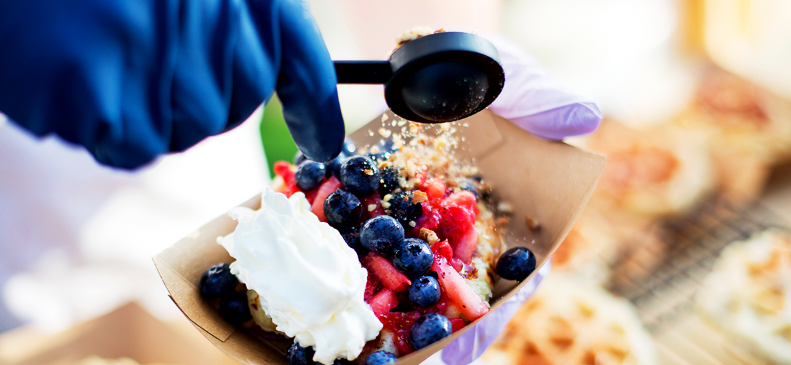 Fishers Winter Farmers Market
Roy G. Holland Park building // 9 a.m. - noon // Saturdays through March 16, 2019
Fishers' winter market moved to larger space this year to accommodate additional vendors, and the result is an eclectic collection of taste sensations.
Summer staple Mathoo's Eggrolls is represented, along with 5280 Bistro's food truck—a mobile version of the Allisonville Road "slow food" breakfast-and-lunch café. Craving some flavored fermented tea? Pick up a growler at Circle City Kombucha.
My incurable sweet tooth usually leads me to the eye candy at 350 Edible Art or the home-like comfort of Love and Cobbler.
Westfield Winter City Market
120 Jersey St. // 9 a.m. - 1 p.m. // Dec. 8, Jan. 12, Feb. 9 and March 9, 2019
Organized by the Downtown Westfield Association, this cozy market is set up inside the Westfield Lions Club on the second Saturday of each month. Local vendors include Rail Epicurean Market and Blackhawk Winery.
Oh, and those winter vegetables? About what you'd expect: root veggies like carrots, potatoes and turnips and plenty of aptly named winter squash.
Be sure to follow us on Facebook, Twitter and Instagram to see what is happening in #VisitHC this winter. Happy shopping!