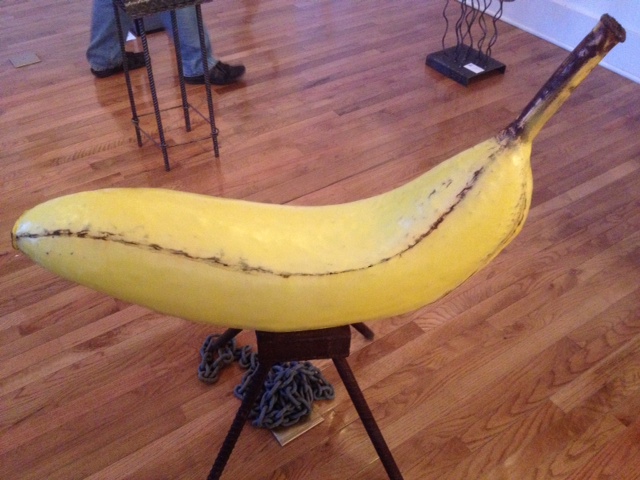 Quick, what is the first thing you think of when you hear, "
Women Welders
"? Well, if you are like me, your brain immediately begins to think, "She's a maniac, maniac..." from the mega-eighties flick, "Flashdance." But, no. The women welders of which I will now begin writing is the
Nickel Plate Arts
' newest exhibit, which runs through March 22.
The "women" in Women Welders are local artists Joanie Drizin, aka Girly Steel; Bonnie Ramirez, aka The Torch Queen; and Donna Rugenstein, of the Noblesville boutique, Whimzy. While their work may all be crafted from metal and exhibit a bit (or in some cases, a lot) of whimsy, it is all very different in scope, scale, concept, and, ultimately, price.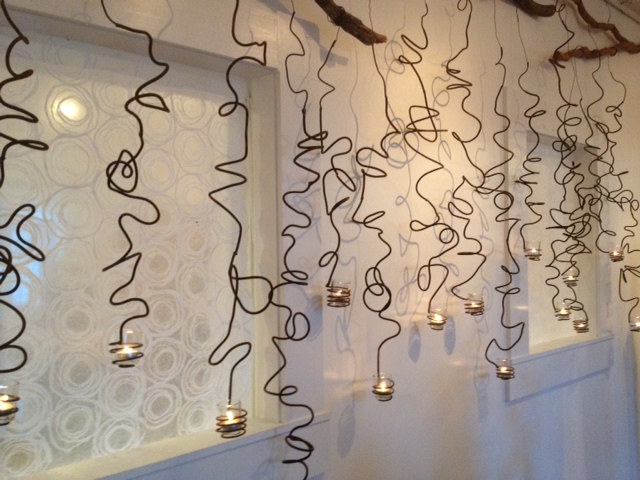 Need something for your garden or another outside space? Something artsy, but perhaps you would like to kill two birds with a single stone and purchase an item on which you can also sit? How about an enormous metal banana? It is sturdy enough to hold you and would look darling in the right space. No? Well, an ornate chaise might be a bit more comfy, and would still be a focal point. Just maybe not quite as much of a conversation piece.
Or maybe you would rather opt for something smaller in scale. Something to enliven the inside of your home. Do you like to be bathed in romantic candlelight, but rather not take up too much table space? A collection of wire sculpted to hold candles and cast lovely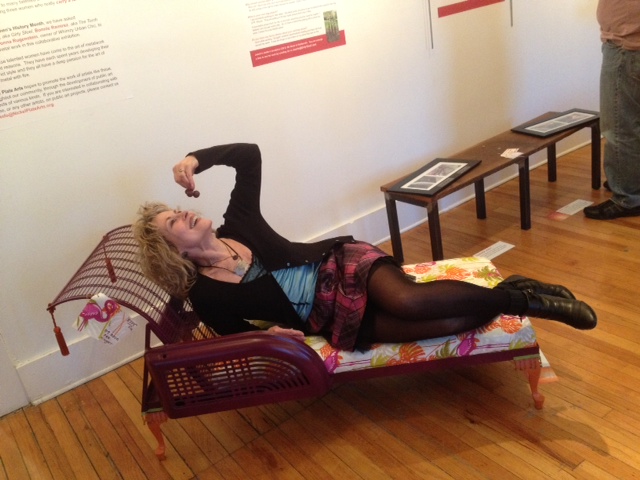 shadows could be just the thing. Or maybe you have always secretly wanted a metal bra? It's OK, I won't judge! It would, perhaps, make a humorous, feminist statement to hang it near your fireplace! At least, that is what I would do.
No? OK, who doesn't like jewelry? Many cool, lovingly crafted and colorful pieces are reasonably priced and also featured in the collection. And when you go to look at them, be sure to hold a piece up near the window--that's how you can truly appreciate the color and glow of some of the pendants.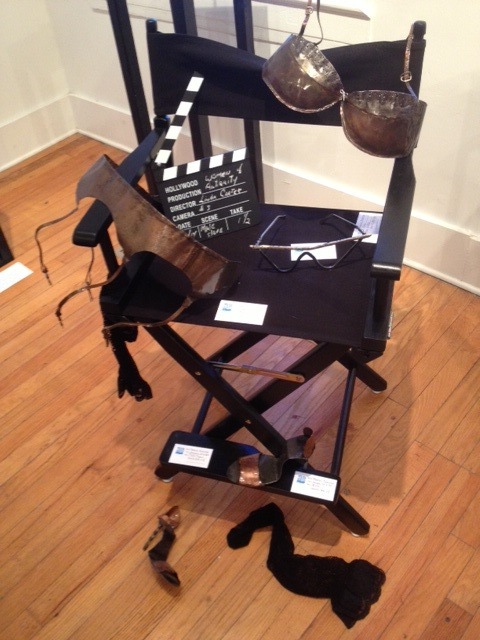 While I wasn't quite sure what to expect when I went to the opening of Women Welders, I enjoyed what I saw and the people I met! The creativity and talent in Hamilton County never ceases to amaze me, and I love that Nickel Plate Arts supports the community in such an all encompassing fashion! Cheers all around.