What do dainty fairy houses, trees and sheep have in common? They are all being celebrated in Hamilton County, Indiana! Not to mention tons of sporting events to attend for lovers of baseball, golf and beyond. Discover these fun things to do below, plus check out our
online calendar
for even more ideas.
Welcome to Fairyville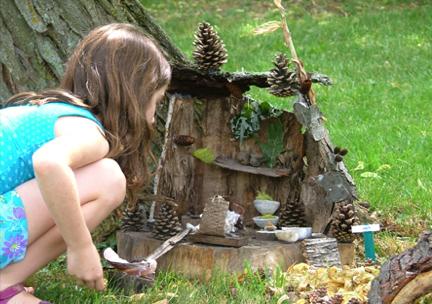 April 22-25
Noblesville, Indiana
Nickel Plate Arts is hosting a variety of fairy fun events! Partake in fairy crafts, attend a fairy tea party and more. Definitely don't miss the Fairyville Trail. Fairy houses made by local artists will be on display in the gallery and throughout downtown Noblesville and all the way to Forest Park. These adorable mini homes are all hand crafted with mostly natural materials and are a sight to behold.

Arbor Day Celebrations
April 24-25
Various Hamilton County locations
Celebrate trees this Friday at several events across the county. Stop by Conner Prairie for a "treerific" time learning about how trees grow in Indiana and how they are used in the carpentry shop in Prairietown. Flock to the Nickel Plate District Amphitheater to see a flock of decorated flamingos on the lawn. Vote for your favorites and learn about tree sponsorship in Fishers. Or save your celebrating for Saturday at Earth Day Arbor Fest in Noblesville's Forest Park and hear tree tales from Appleseedz while getting your own tree seedlings.

Booth Tarkingon Civic Theatre presents: Monty Python's Spamalot
April 24-May 9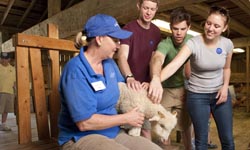 Carmel, Indiana
If one of your favorite films is Monty Python and the Holy Grail, this musical is for you. Take a hilarious musical journey with King Arthur, his knights and several silly characters. While attending the show, be sure check out the 100 Years of Civic exhibit in The Tarkington lobby that's celebrating Civic's 100th anniversary.

Shear Fun
April 25-26
Fishers, Indiana
Learn about all things wool and sheep at Conner Prairie this weekend. See the process of how sheep's fur is transformed into a blanket! Watch sheep being sheared and even try your hand at spinning the wool and weaving with it.

Museum of Miniature Houses Attic Sale
April 25
Carmel, Indiana
Discover tiny treasures at the annual Attic Sale hosted by the Museum of Miniature Houses and Other Collections. Miniature furniture, dolls, mini-homes, kits and miniature-making supplies will be for sale. Stop at the museum for even more trinkets and to see the latest exhibit.

Sports in Hamilton County

April 24-26
Various locations
From Big 10 Women's Golf at The Fort to an all-ladies Crossfit competition, this weekend is packed with sporty events. Families will love Baseball Opening Day in Fishers and soccer enthusiasts should take a trip to Grand Park for a college soccer showcase. Find all of these events and more on the Hamilton County Sports Authority calendar.

Want to always know what Hamilton County weekend happenings are coming up? Sign up to have this list and more delivered right to your inbox.