"It's just the best of everything." That's how Matt Winn describes his reason for living and working in Hamilton County. 
The thing is, when Matt says Hamilton County is the best, he's not just expressing his opinion. He's also echoing the judgment of publications and websites like Forbes, CNN Money, Yahoo Finance and Family Circle. Over and over, outlets like those put Hamilton County and its communities at the top of their "Best of" listings, giving the area honors in rankings ranging from "Best Cities to Relocate To" and "Best City to Raise a Family" to "HealthiestCounty in Indiana" and "Happiest Suburbs in the Nation."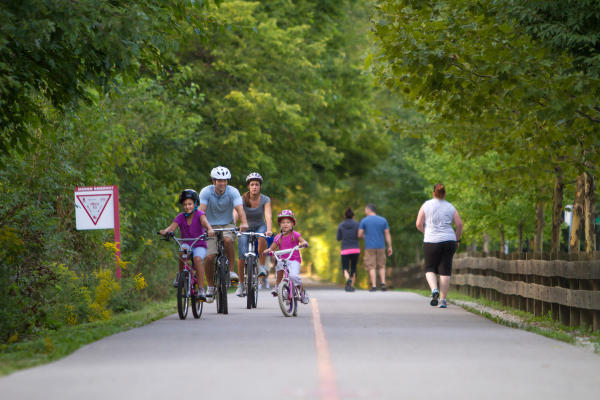 #1 Best City to Raise a Family in the Midwest (Carmel) – Yahoo Finance
America's Best City for Families (Fishers) – The Mortgage Reports
Best Place to Raise a Family (Hamilton County) – Forbes Magazine
Top Place to Live (Hamilton County) – CNN Money
#1 Place to Live in America (Fishers) – Money Magazine
Best Cities to Relocate to in America (Indianapolis/Carmel) – CNBC
Best Cities for Young Professionals (Indianapolis/Carmel) – Forbes Magazine
Top Ten Best Towns for Families (Westfield) – Family Circle Magazine
#2 Happiest Suburbs in the Nation (Fishers) – Movoto Real Estate
#14 Best Place to Live (Carmel) – CNN Money Magazine
#20 Best Small Town to Live in (Noblesville) – NerdWallet.com
Healthiest County in Indiana (Hamilton County) – University of Wisconsin Population Health Institute and Robert Woods Johnson Foundation
Matt gets it. A young healthcare professional with a wife and two kids, he praises a lot of the same things that make writers and editors take note of Hamilton County. He loves the sense of community, his quick and easy commute, all the things there are to do, the great restaurants, places to take his kids on weekends … the list goes on and on.
"I can't imagine a better place for a young family," Matt says. "It's like a small community with big amenities."
That mix of small-town feel and big-city assets comes up a lot when you read the media rankings and when you talk to people who live in Hamilton County. Over and over, you'll hear phrases like, "community feel," "friendliness" and "family-oriented" alongside phrases like, "great restaurants," "incredible shopping" and "lots of things to do."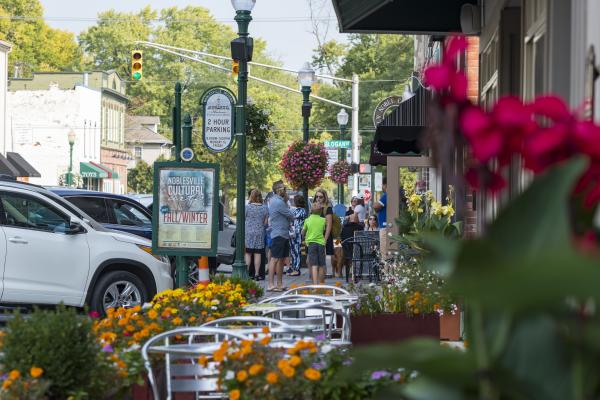 "Everything is here!" exclaims Olivia Aguirre, who grew up in Hamilton County and returned home to begin her nursing career after college. "All those things I used to think I had to move to the city to get, I can get here." Olivia especially crows about the area's shopping and restaurants – she loves how both categories offer a mix of locally owned outlets and exclusive, big-name brands – and the range of entertainment options.
An economic success story
Many "Best of" rankings start with the economy, and that certainly fits the bill in Hamilton County. In recent years, such indicators as unemployment rate, average salaries and job growth in Hamilton County have soundly outpaced national averages.
Headlines routinely highlight new employers that have chosen Hamilton County for relocation or expansion, resulting in 10-year job-growth projections that bestplaces.net pegs at more than 25% ahead of the nation as a whole (42.6% for Hamilton County vs. 33.5% for the U.S.). And the jobs that are coming to the county pay well: Median family incomes in Hamilton County are 50% higher than the national average ($108,099 vs. $70,850).
As the economy in Hamilton County has hummed along, residents and their leaders have chosen to put money back into the communities, developing high-quality residential and commercial areas, adding and expanding attractions and amenities, improving infrastructure and making other investments that drive quality of life.
Certainly, there's always plenty to do in Hamilton County. For example, some of the Indianapolis metro area's most celebrated concert venues are located there, including The Palladium at the Center for the Performing Arts, Ruoff Home Mortgage Music Center and the concert shell at Conner Prairie. Of course, Conner Prairie itself is considered to be among Central Indiana's cultural jewels, as are the many art galleries and artisan treasures to be found in small shops in the county's vibrant downtowns.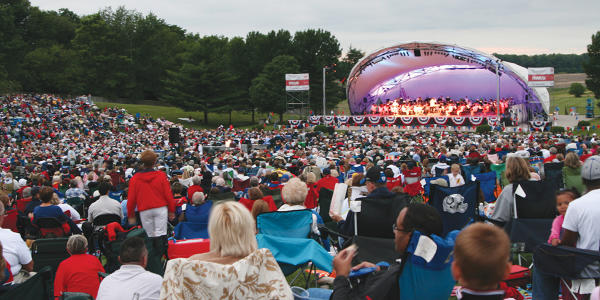 It's worth noting that the things that make people like Olivia love Hamilton County are no accident. Civic and business leaders and government officials have made a concerted effort over the last couple of decades to make their county and communities attractive to employers, workers and families. They've invested heavily in infrastructure, schools and public services, developed attractive streetscapes and attracted businesses that buy in to the balance of small-town and big-city feel. They've partnered with developers to create neighborhoods, commercial areas and greenspaces that also fit the vision, and collaborated on regional projects when appropriate.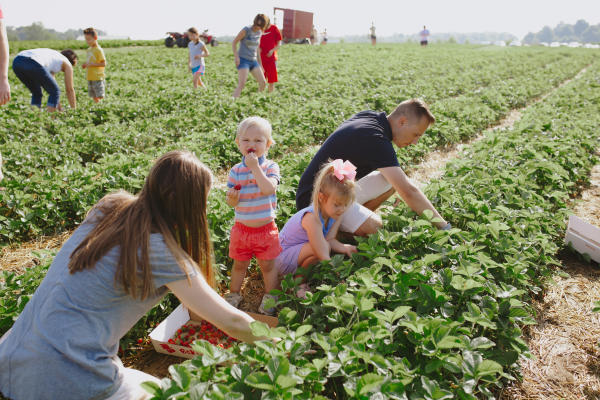 "I think they're doing it right," says Tom Koch, an ag specialist who works as a breeding manager at Beck's.
Having grown up on a farm, Tom prefers to live on a little acreage where he can keep chickens and goats, but his wife, Katie, is a suburban girl who doesn't want to be too far from modern conveniences. Their home outside of Sheridan gives them the right balance, with a little elbow room for Tom, access to shopping, restaurants and so forth for Katie, and also great schools for their three kids, an easy jaunt to the Monon Trail and lots of friendly people.
Greenspace amenities like the Monon Trail – a dedicated bike and pedestrian path that runs through Hamilton County and on to downtown Indianapolis – have been a big part of why people like Tom as well as national rankings laud Hamilton County. The county complements its polished downtowns and bustling malls with more than 60 parks and countless play spaces, common areas and neighborhood gathering spots.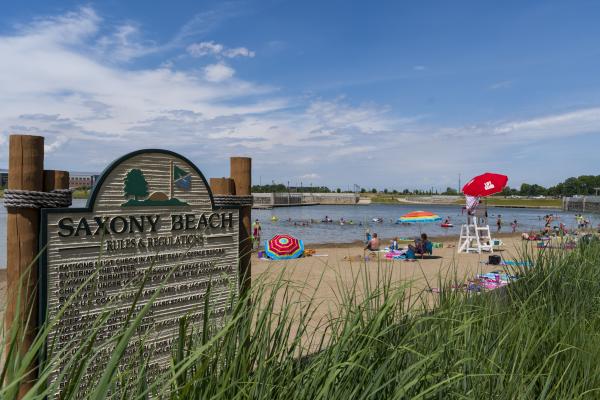 The county also gives residents access to two major bodies of water – Morse and Geist reservoirs – for boating, fishing and skiing, as well as White River, which provides a great place to canoe, kayak and see water-based wildlife up-close. A number of nature preserves and parks include hiking trails, and many area greenspaces get turned into concert venues and festival sites on weekends and summer evenings
Of course, no number of wonderful amenities will draw families to a community unless they feel their children will get a good education there. In Hamilton County, that's not a worry.
It certainly isn't to Rafael Bolivar, a bank vice president. "The schools here are amazing," says the father of two. "The quality of the schools here, in all of Hamilton County, is so good … I feel good knowing my kids will get a good education."   
The "Best of" lists echo Rafael's sentiments. For example, when US News compiled its recent list of best public high schools in Indiana, four of them were in Hamilton County, and when National Blue Ribbon School designations were handed out, 19 of them went to public and private schools (kindergarten through grade 12) in Hamilton County.
Julia Coy has a unique perspective on all of these "bests" that routinely rain down on Hamilton County. When she moved into her home from another Indiana county almost 15 years ago, she and her husband, Trent, were on the outer edges of the county's development.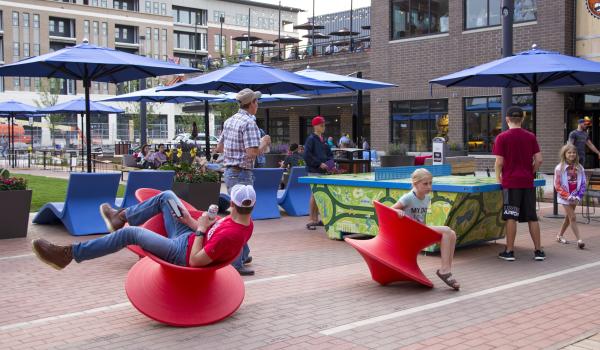 Since then, they've seen the county grow around them, and they couldn't be happier. They welcomed the high-end amenities and vibrant streetscapes. They regularly take advantage of the restaurants and shopping, they boast about the school their son attends, and their quick commutes to their Hamilton County jobs. At the same time, they rave about how the community has held onto its warmth and character. People are friendly, getting together for evening events in their neighborhood and clustering together at their kids' sports events. They run into neighbors at farmer's markets on Saturday mornings, and attend concerts with friends. 
"The area just keeps growing and getting better and better," Julia says. "I've [move here] all over again if I had the chance."