Realizing community fit is key even if moving within the Midwest
You might think one Midwestern city is pretty much like any other. But, having moved from Cincinnati to Westfield, I can tell you that, from a community feel, it couldn't be more different. In only one year in Hamilton County, I have found more of a sense of community here than I found in 10 years in Cincinnati.
Actually, it started before we even moved in. When my wife, Shannon, and I were shopping for homes, we would drive through all kinds of Hamilton County neighborhoods with our Ohio license plates, and people would stop and wave at us. We couldn't believe how friendly everybody was.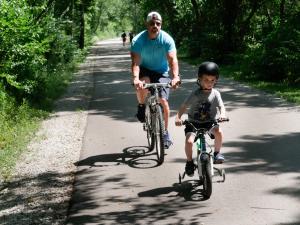 That sense of community was exactly what we were looking for. We were ready for a change, and we had been looking at other cities, including Columbus, Ohio, but the Indianapolis area kept drawing us in. My father-in-law lives here with his wife, but, otherwise, we didn't have any particular reason for choosing this area. But one day we were driving over from Cincinnati to look at a house, and Shannon turned to me and asked, "Is it weird that this feels like home already?                                                               
As we looked for the right neighborhood and the right home in that neighborhood, we got good guidance from Shannon's dad. He said we couldn't go wrong in Hamilton County. The schools are all good, he said, and all of the cities and towns come with their own advantages. He listed the benefits of each area, and said, "If you like the small-town feel, a more personal community, choose Westfield." And that's what we chose.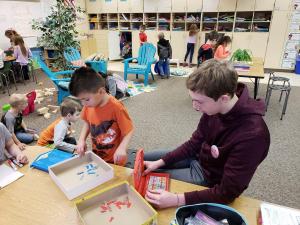 What's great about Hamilton County, though, is that no matter where you live, you get access to all of it. Everything's so convenient. We're a blended family, and we moved here with two of our four kids, 5-year-old Parker and 21-year-old Dom, so we look for a lot of different amenities. For example, I coach Parker in soccer and other sports, so Grand Park is a typical weekend hangout for us. At the same time, Dom is into sampling other cultures, so things like the Greek Festival in Carmel is a big hit with him.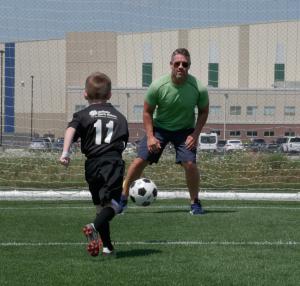 We also like to have plenty to do when our other kids, 17-year-old Lauren and 19-year-old Sam, come to visit. So we were looking for a lot of amenities. We all enjoy the parks – there are so many great parks in Hamilton County! – and biking on the Monon Trail, and we have passes to Conner Prairie and we like to go down to Indy for the Children's Museum. Wolfie's Grill is our family hangout for the moment, but we also like the restaurants on Park Street in Westfield.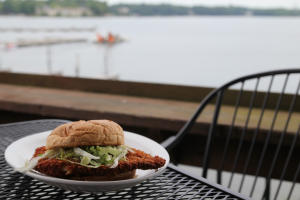 What amazes me is that all of these great amenities are so accessible. We can be in downtown Carmel in a matter of minutes, and then a few minutes after that, out in the middle of the country. And I know people like to kid about the roundabouts – they can be a little overwhelming when you first get here – but I have to say that I can get from one end of town to the other literally without stopping, and it takes about 15 minutes, maximum. Since we're still relatively new, we're still in that "explorer" mode, so we sometimes just get in the car and drive until we find something new or interesting.
One of the things we really enjoy is checking out other neighborhoods. They're all so nice and phenomenal. You see lots of different kinds of houses here. They're not all cookie-cutter designs, so they have more character. We live behind a school and our house backs up to a little nature preserve. It's nice and quiet.
As much as we like that back yard, though, we really like being in front yard, because people are outside a lot, and they're so friendly that they stop and chat. We've met so many people that way, just being in our front yard, talking with people who walk by.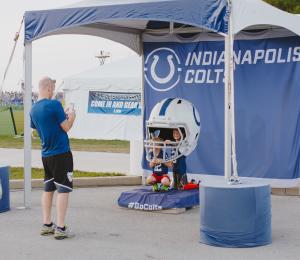 I guess that's why we already feel like we have more friends – more good friends – in less than a year in Hamilton County than we had in a decade in Cincinnati. I guess that's why Shannon felt like we were already home even before we moved here, and I guess that's why little Parker already yells, "Look, Dad, the Colts!" any time he sees a horseshoe. Because we have found the community we were looking for. We found home.