How moving to the Midwest town of Westfield Indiana came out on top when comparing to other cities
Sometimes I joke that I came to Hamilton County kicking and screaming.
You have to understand: During my career, I've lived in some pretty cool places. New York City. Shanghai. Charlotte. Atlanta. Coming to Indiana seemed like we were making a wrong turn or something. But when my wife's job required a move to the Indianapolis area, we found out our misgivings were wrong.
It didn't take long. On our first visit, Caitlin and I came to find a house. We started the search at 8 a.m. on a Saturday and had preliminary papers signed by about 10:15. It was the perfect house in the perfect Westfield neighborhood. It had everything we wanted. It was on a little retention pond, which we thought would be neat for our kids (we were expecting our first at that point). Caitlin needs to be close to a Target, and there was a grocery store close by, too. I'm a big runner, so the Monon Trail was a big thing for me. There are parks and gyms in the area and lots of kids in the neighborhood. We wanted the safest place we could live, and we didn't want to deal with traffic. It seemed right.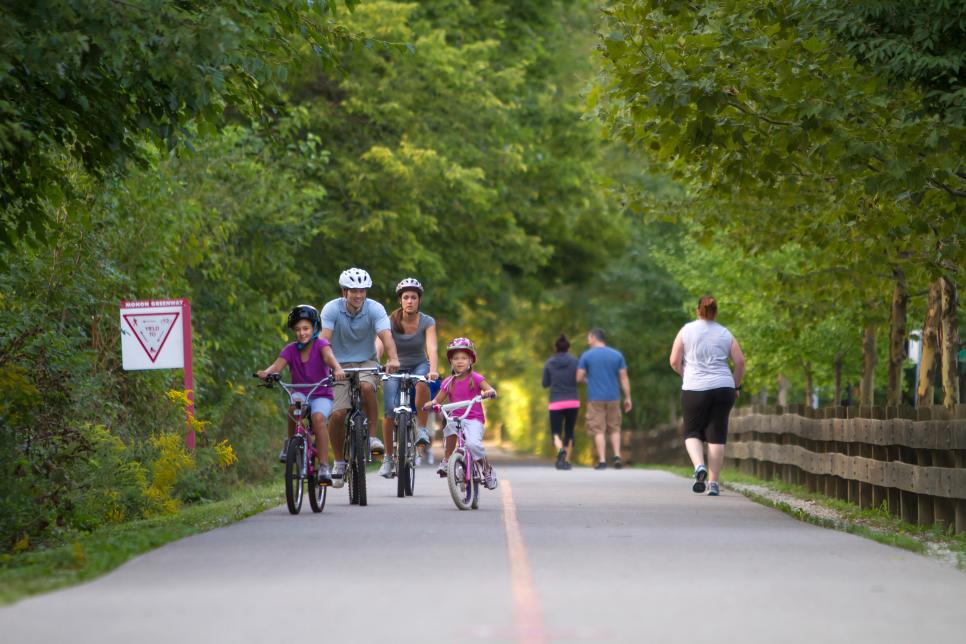 The Monon Trail
After we moved in, it only got better. We like having nice places to eat, but, honestly, we had always figured Indiana was the Land of the Hamburger, so we weren't expecting much. We were wrong. The food options are fantastic.
I have to have a good breakfast place close to home, and it didn't take me long to find Café Patachou. I also need good Indian food, and Amber Indian is not far. I needed good Thai food and good sushi. We found it. For us, that was a big selling point: finding that people ate different kinds of food and finding little restaurants that serve it.
Caitlin and I were happy to find such a great fitness culture. Lots of runners, cyclists, triathletes, and different races and events. It turns out a lot of people are into healthy living, and there are lots of places to get out and move with friends.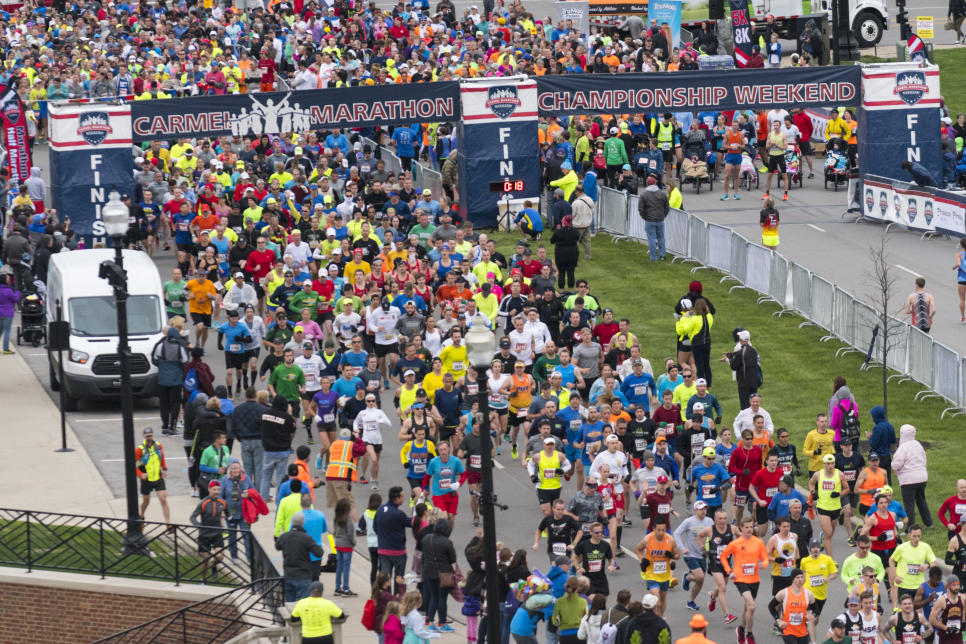 Carmel Marathon
Of course, since we were coming to Hamilton County from Atlanta, we make a lot of comparisons between living there and here and Hamilton County keeps coming out on top. We love how much more house we get for the money here, and the low property taxes are icing on the cake. And, while we loved the energy in Atlanta, the crime there – in our own neighborhood – was pretty scary. We've never felt safer than we do here.
"We make a lot of comparisons between living there and here and Hamilton County keeps coming out on top."
One of the biggest things might be how easy it is to get everywhere. I swear, everything here is five minutes away, whether it's 8 o'clock in the morning, 5 in the afternoon, or whenever, it's going to be five minutes to anything, maybe six on a busy day. If you get home from the grocery and realize you forgot something, it's no big deal. Need to get to your kid's school for something? No problem. Commuting is a dream. I can leave for the office at 7:45 and leave for home at 5:15, which means I can have breakfast with my kids, get home to have dinner with my kids, and still work a nine- or 10-hour day.
When you have kids – Caitlin and I have 7-year-old Jack, 4-year-old Charlotte and 7-month-old Molly – schools and activities are a top concern, and, again, we feel like we found the perfect place. We can't say enough about Westfield schools, our kids participate in recreational sports, gymnastics and more, and the parks are fantastic. Asa Bales Park in Westfield is a favorite and the West Commons Playground at Central Park … it feels like we're playing in the Jetson's day or something.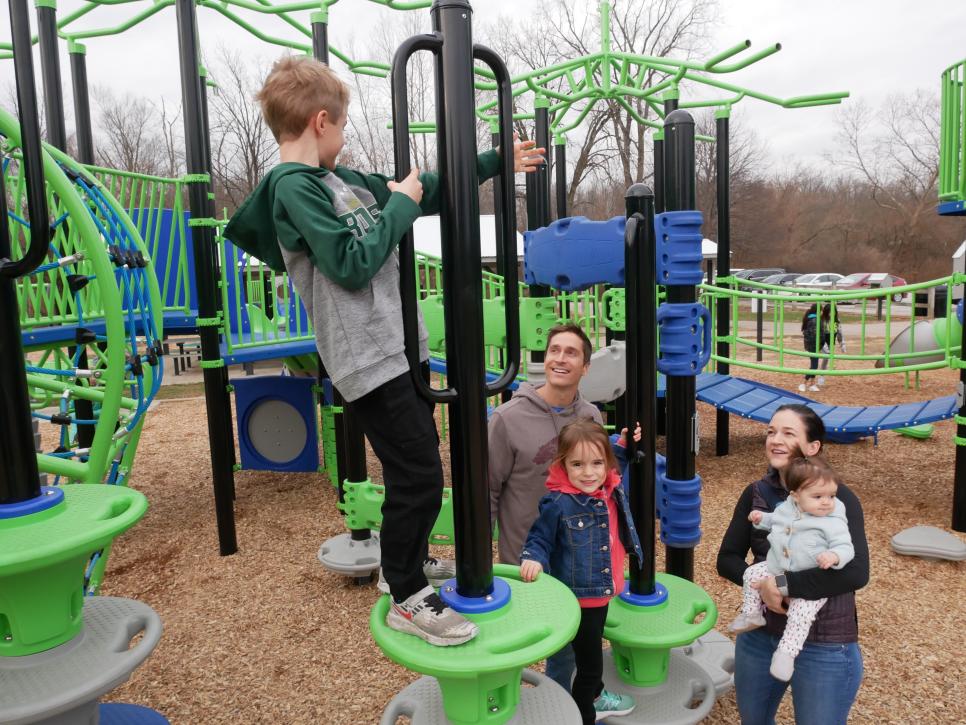 Cool Creek Park, Westfield
At this point, we are a cliché of Hamilton County families. We bike on the Monon and stop at Square Donuts with our kids. Caitlin shops at Clay Terrace. We go to Soho Café and Gallery for coffee. We work in the yard and play with the kids. We put our kayaks and stand-up paddleboards on the little lake we live on. We go to the restaurants on Park Street – we especially like Rail – and sometimes we get on our bikes and do what I call the "pub crawl for 37-year-old tired people with kids," cruising down the Monon and stopping at some restaurants and breweries along the way. I've discovered that we could easily hit 20 places along the way. Maybe that's the thing that really amazes me: There's so much to do here in such a concentrated space.
So, I might have come here kicking and screaming, but now I leave kicking and screaming. I don't go south of 96th Street any more if I don't have to. Why would I? Everything's here.