Learn
Hamilton County is home to four of the Top 10 Public Schools in Indiana.
With over 4,000 high school students enrolled in 2018, 93.4% of them graduated and 82% enroll in college.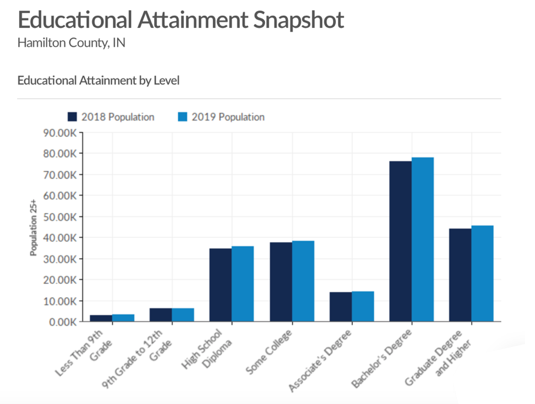 Hamilton County includes four of the Top 10 High schools in Indiana (US News & World Report)*
*Hamilton Southeastern Schools (Fishers and Hamilton Southeastern)
Ivy Tech Community College Noblesville - Accredited by the Higher Learning Commission, Ivy Tech is the state's community college system that shapes the curriculum with the workforce needs of the community in mind while offering affordable tuition rates to keep higher education accessible to all. Ivy Tech offers hands on experience with some of the state's most advanced technologies and training facilities.
HC WIN - Hamilton County Workforce Innovation Network is a countywide, collaborative workforce development effort between local business partners, K-12 institutions, higher education, and local and state community agencies.
Sign-Up for our eNewsletter
Sign up to receive Hamilton County Economic Development information for key stakeholders and Human Resources professionals in Hamilton County, Indiana.