Monon Trail
The Monon Trail is a rails-to-trails paved path spanning through Central Indiana, connecting to downtown Indianapolis and the Indianapolis Cultural Trail. The Monon Trail starts in Hamilton County, Indiana at the 96th Street trailhead in Carmel and stretches more than 20 miles north through Westfield and Grand Park to the town of Sheridan.
Pedal the Monon Trail through Hamilton County and you'll bike past the Monon Community Center, including an outdoor waterpark in the summer; the Center for the Performing Arts, a world-class performance venue; Midtown Plaza, an outdoor gathering space filled with games, activities, restaurants and specialty shops to keep everyone entertained;  City Center and the Carmel Arts and Design district with restaurants and shops; Clay Terrace, an outdoor shopping mall; and Grand Parks Sports Complex.
Free parking and access points are available at 96th Street at the Hamilton and Marion County border, Main Street in Carmel and Rohrer Road south of 146th Street.
Learn More about Outdoor Things to Do
With extensive trails in Hamilton County, hikers, bikers and runners will enjoy exploring nature. Two highlighted experience trails,...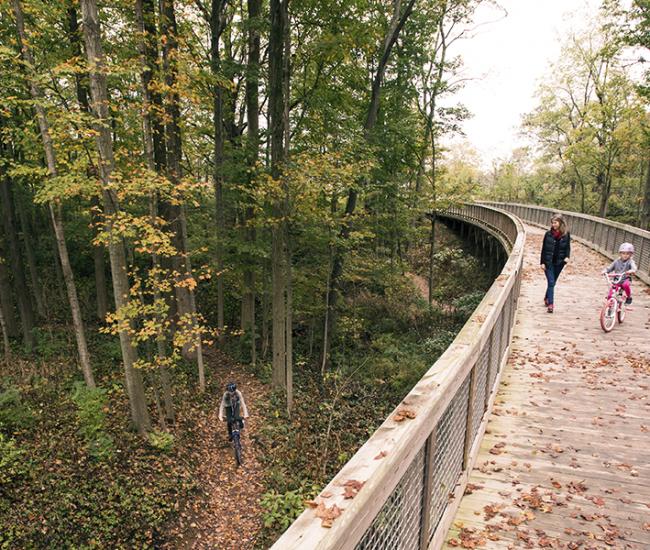 Summertime is a season when school's out, pools are open and it's easy to lose track of the day of the week. Start making...