On a nice Saturday, take a seat on one of the big yellow recliners outside Anthony's Chophouse at the corner of the Monon Trail and Main Street in downtown Carmel, or grab a trail-side table across the way at Bazbeaux Pizza. Then sit back and watch the world go by.
You'll see countless cyclists – from moms and dads pulling kids on tag-a-long bikes to serious pedalers geared up like they're riding the Tour de France – and innumerable runners. You'll see parents pushing strollers, couples out for strolls and small groups walking and chatting.
On farmer's market days, the people you see might be carrying baskets of fresh produce, bags of baked goods or bouquets of colorful flowers. In the evening, you'll see folks gussied up for performances at the Palladium, others heading down to Sun King Spirits for a beverage or a game of outdoor ping pong at Midtown Plaza, and still others simply walking from place to place. You'll observe seniors, Boomers, Gen Xers, Millennials, hipsters and everything in between.
In short, from your trailside perch, you'll see all sorts of people finding all sorts of ways to enjoy the strip of urban respite that winds through the heart of Carmel.

A Ride Back in Time
Looking at all of that urban vitality, it could be hard to imagine that, a few decades ago, this linear property was overgrown and neglected, or that a handful of locals protested the very idea of a pedestrian and bike trail in Carmel.
Reaching further back in time, it might be even harder to envision this corridor as a railway that ferried people and goods between Louisville and Chicago. Running from the 1850s to 1980s, the Monon Line hauled massive slabs of Indiana limestone for globally iconic buildings, took farm goods to market, carried coal to waiting furnaces and even conveyed Union soldiers and supplies to and from the front during the Civil War.
To understand how this strip of Indiana heartland transitioned from rumbling railway to celebrated pathway, you really need to head south a bit, to Indianapolis. That's where, in the 1980s, a relentless champion for recreational greenspaces named Ray Irvin hatched the idea for converting the Monon Railroad right-of-way into a greenway.
When the trains stopped rolling through Indy on the Monon Line, the old rail bed quickly succumbed to neglect, but Irvin saw potential and, in 1994, he saw his vision realized in a stretch of the Monon Trail through Broad Ripple. By 1999, the rail-to-trail project had grown in both directions, stretching from 10th Street in downtown Indianapolis to the Hamilton County-Marion County border at 96th Street.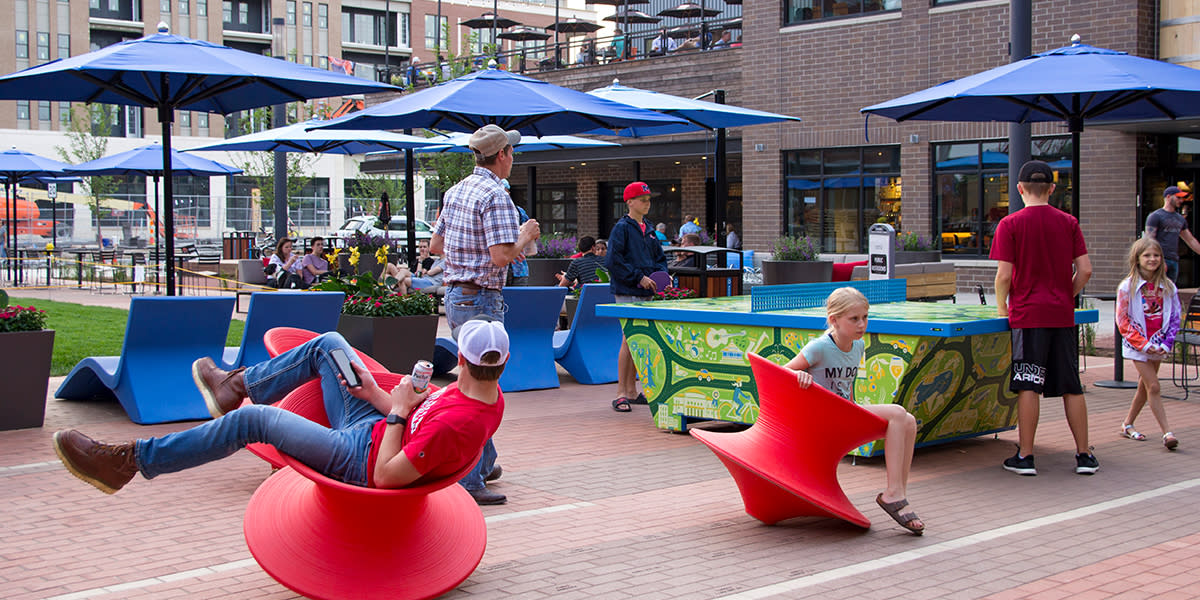 From Dump to "Living Room"
While people in Hamilton County watched Indy's developing Monon Trail with interest, its own Monon rail bed remained a mess. Councilman Carter, who was instrumental in pushing for development of the Monon Trail in Carmel, recalls that, after the tracks were pulled up in 1987, some locals decided they could dump pretty much anything there.
"Every fly-by-night tree trimmer was backing up on the Monon and emptying their pickup trucks," Carter said. Other bandits would unload old appliances, construction materials and more on the rail bed.
Still, not everyone wanted to see that ad hoc dumping zone replaced with a greenway. In fact, Carter says the initial vision was "received terribly." Many adjacent property owners wanted to claim the abandoned rail property as their own, and others simply feared the impact people running, walking and biking through their backyards would have on property values. A few residents worried that crime would find its way up the Monon from Indianapolis.
Amid protests and pickets, arguments at public meetings and more, the city ultimately filed nearly 100 eminent domain suits to get control of the property used for the Monon Trail. Even on the day of the official opening in 2002, there were still protests and pickets, but the ribbon cutting went off without a hitch, and users flocked to the trail, launching what has become a core part of Carmel's appeal.
"It's the city's living room," Carter said. "It's one of the things, along with our schools, that makes Carmel what it is today." He adds that some of the original opponents have admitted that the trail has proven to be a good thing for Carmel. One is even planning to put a gate onto the trail from his adjoining property so his grandkids can enjoy it.
The Growth Continues
Of course, those former opponents would have a hard time holding onto their gloom-and-doom views. Growth and improvements along the trail have been steady, with some estimates suggesting that nearly a billion dollars in public and private investment have brought civic, commercial, residential and retail developments to the trail corridor.
Most visible right now, the City of Carmel is wrapping up a $23 million expansion of the trail, creating the "multi-modal boulevard" of recreation and exercise that has quickly become a community centerpiece. The 140-foot-wide greenway includes brick streets, curvy pathways, plenty of seating and engaging green spaces. It also sidles along a new public plaza and links trail users to the Center for the Performing Arts, City Hall, the Monon Community Center at Central Park and restaurants, coffee shops and more. With an intersection in the heart of the Arts & Design District, the trail delivers users to the Indiana Design Center and plenty of places to shop, nosh and relax.
Heading north, users can find a spur off of the trail delivering them to Clay Terrace for such destination shops as Eddie Bauer, Luxe Home Interiors, Dick's Sporting Goods, Meridian Music/Steinway Piano Gallery and Whole Foods, as well as a range of eateries, from Qdoba and Red Robin to Prime 47 and Mitchell's Fish Market. If they bypass Clay Terrace, they'll pass through a number of leafy residential neighborhoods featuring everything from older cottage-style homes to condo communities to large, stately houses on large lots.
Farther north, trail users will find that Carmel isn't the only community building on the power of the Monon Trail. Westfield is putting the finishing touches on a $5.5 million bridge that will carry trail users over State Road 32, giving them easy access to Grand Park and pathways that also connect to downtown Westfield. They can also access other trails, including ones that take them to parks and residential areas. A few blocks off of the main trail, visitors will find Westfield's "Restaurant Row," where offerings range from casual Greek's Pizzeria to the more upscale Italian House on Park.
For those who really want to get away from it all, the Monon Trail extends north from Grand Park, passing through a mix of wooded areas, residential neighborhoods and agricultural land that stretches a few miles to the town of Sheridan, marking the completion of the original Monon Trail vision.
Last spring, when the ribbon was cut at 191st Street to open that section to Sheridan, the event was in some ways like the original Hamilton County Monon Trail ribbon cutting. There were speeches and festivities, and inaugural runs, walks and rides. But there was one big difference: Not a single person showed up to protest.