Conner Prairie
Located in Fishers, Indiana, Conner Prairie is a nationally acclaimed history destination. The outdoor museum's mission is to inspire curiosity and foster learning about Indiana by providing engaging, individualized and unique experiences. Created by Eli Lilly in 1934, Conner Prairie combines history with science and encourages visitors to explore Indiana's natural and cultural heritage through hands-on, immersive and interactive experiences. The museum offers several historically themed, indoor and outdoor experience areas throughout its 800 acres of wooded property. Indiana's first Smithsonian Institute affiliate, Conner Prairie is accredited by the American Alliance of Museums.
When you visit Conner Prairie, stay at a nearby hotel and explore the Fishers' downtown Nickel Plate District. Families can check out favorites like Topgolf, IKEA, The Escape Room, K1 Speed and more, along with dining options like Four Day Ray Brewing.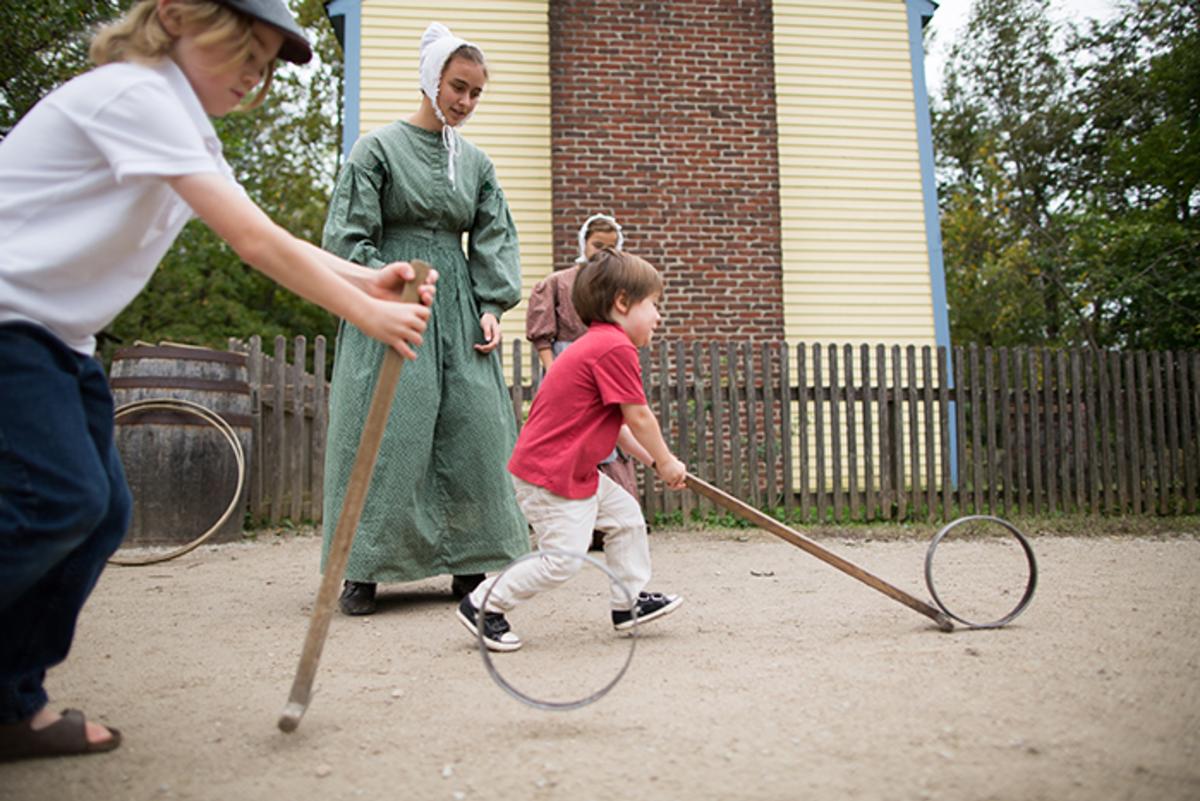 Access Pass
Conner Prairie is proud to partner with other local museums to make family fun available to more Indiana families. Families that participate in any of the state assistance programs, including Temporary Assistance for Needy Families, food stamps or Hoosier Healthwise Insurance, can visit for just $2 per family member per visit. Aides enjoy complimentary admission with employee ID or proof of employment.
Military Admission Relief
Conner Prairie offers admission relief to the military by providing free daytime general admission to active-duty, retired and veteran military members and 50 percent off the general admission price for up to five immediate family members. Military ID is required. This discount is valid only for daytime general admission.
Conner Prairie is also a Blue Star Museum. Because of this designation, the museum offers free admission to active duty military personnel and up to five immediate family members - spouse and children - from Memorial Day through Labor Day.
Questions? Call Guest Services at 317.776.6006 or 800.966.1836.
Hours and Admission
March 27 - Oct. 28
10 a.m.-5 p.m. Tuesday through Sunday
Closed Mondays
Adults $18; seniors age 65 and older $17; youth ages 2-12 $13; members and youth under 2 are admitted free.
Groups tours (Groups of 15 or more should make reservations by calling Guest Services at 317-776-6000): adults $13, youth ages 2-12 $9.
Nov. 1, 2018 - Jan. 6, 2019
10 a.m. - 5 p.m. Thursday through Sunday
Closed Monday - Wednesday
Check ConnerPrairie.org for special holiday hours.
Adults, seniors age 65 and older and youth ages 2-12, $8; members and youth under age 2 are admitted free. Groups of 15 or more: $8.
1859 Balloon Voyage
Paid general admission to Conner Prairie is required to ride the 1859 Balloon Voyage attraction. Balloon voyages are weather dependent March 27 - Oct. 28. Prices vary, Conner Prairie website for current pricing info.