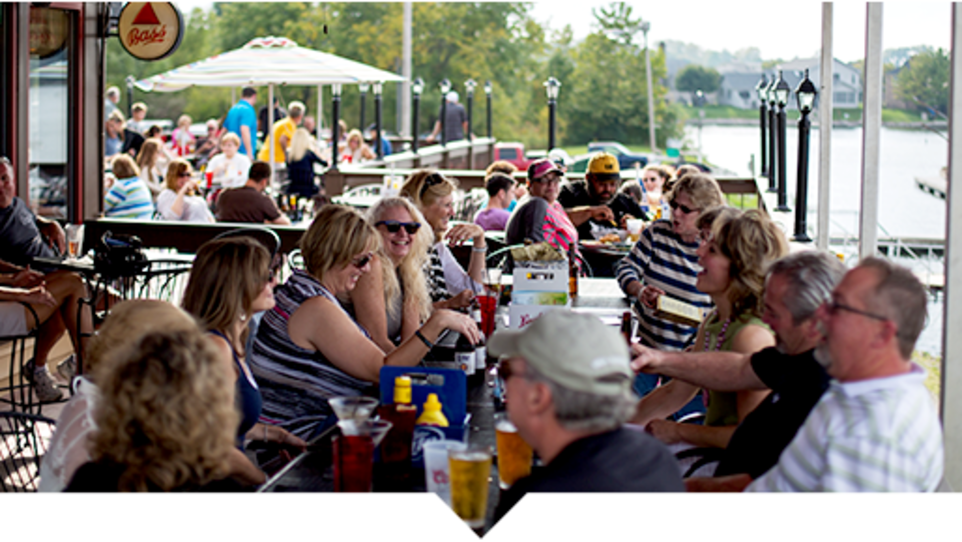 One of the best things about summer is eating outdoors. Picnics at the park, cookouts in the backyard, breakfast on the porch…there's just something relaxing about meals that include sunshine, breeze and birds.
A few crisp mornings remind us summer won't last forever, and we'll have to drag ourselves back inside. But before we do, let's take advantage of every last meal we can enjoy outside. Below are some of my top picks for outdoor dining at restaurants across Hamilton County.
---
Wolfies Waterfront Grill
Watch the sunset at Wolfies Waterfront Grill in Noblesville (pictured above) with gorgeous views of the water from the deck. You should probably do it with a baja shrimp taco in your hand. Just sayin'.
---
divvy
Divvy's patio is prime people-watching property. Its location at Carmel City Center is perfect for warm-weather feasts with friends, downing the spicy corn crème brulée and watching the world go leisurely by.
---
Four Day Ray Brewing
In Fishers' Nickel Plate District, pick a pint at Four Day Ray Brewing and take it outside to the dog-friendly patio with a firepit and unique wall mural designed by a Vardagen artist. Order a round of apps for the table, like the popular pretzel & beer cheese.
---
LouVino
Just around the corner is the classy LouVino, serving Southern-inspired small plates and of course, vino. The libations menu includes 70+ by-the-glass options of award-winning wines. Enjoy weekend brunch  with creative twists like pancake tacos – oh, did someone say $2 mimosas?
---
Bub's Burgers & Ice Cream
And Bub's Burgers & Ice Cream in Carmel is perfect for bike riders. It's right on the Monon Trail for easy access for pedestrians and bicyclists, and sitting outside gets you a front row seat for watching the action on the trail. No worries if you work up a big appetite on the way; the Big Ugly burger is a full pound of meat. Eat it all and you get your picture on the wall of fame, where it belongs.
For a full list of places with patios in Hamilton County, check out our outdoor dining list.
Where's your favorite place to dine al fresco in #VisitHC? Let us know in the comments below and be sure to follow us on Facebook, Twitter and Instagram for more tasty eats.