They say breakfast is the most important meal of the day; that is, of course, unless you include brunch. Who doesn't love the delicious breakfast/lunch hybrid that combines all the best parts of both daytime meals? Yelp Indy has you covered with the list of the Top 10 Brunch Spots in Hamilton County. From locally roasted coffees and savory egg dishes to pastries that will satisfy your sweet tooth, there are bunches of brunches to explore in HamCo.
Methodology: This is an all-time list of the top breakfast/brunch restaurants in Hamilton County, according to Yelp. We identified businesses in the breakfast & brunch category and are not part of a national chain, then ranked those spots using a number of factors including the total volume and ratings of reviews.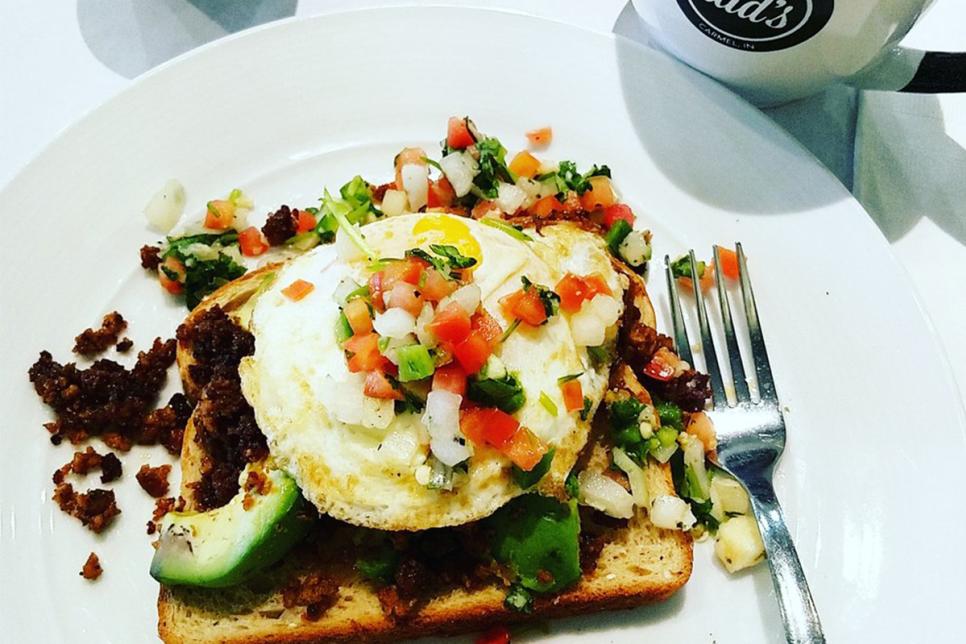 Photo by Yelper Brooke K.
4733 E. 126th Street, Carmel
Thursday – Friday, 7 a.m. – 3 p.m.
Saturday and Sunday, 8 a.m. – 3 p.m.
Rad's puts a fresh spin on the traditional American brunch. The name is in honor of the owners' grandfather, WWII veteran Rad Bailey.
Popular Dishes
Challah French toast, confetti pancakes and avocado toast.
Yelp Insight
"I have been now a dozen times or so and have sampled their many of their breakfast, lunch and bakery items. DO NOT MISS THIS PLACE. Chef Josh, Steve, Dillon and co. go out of their way to make your experience friendly, personable and delicious. I have not even had an average meal. Every item has been top shelf." – Yelper Jamie G.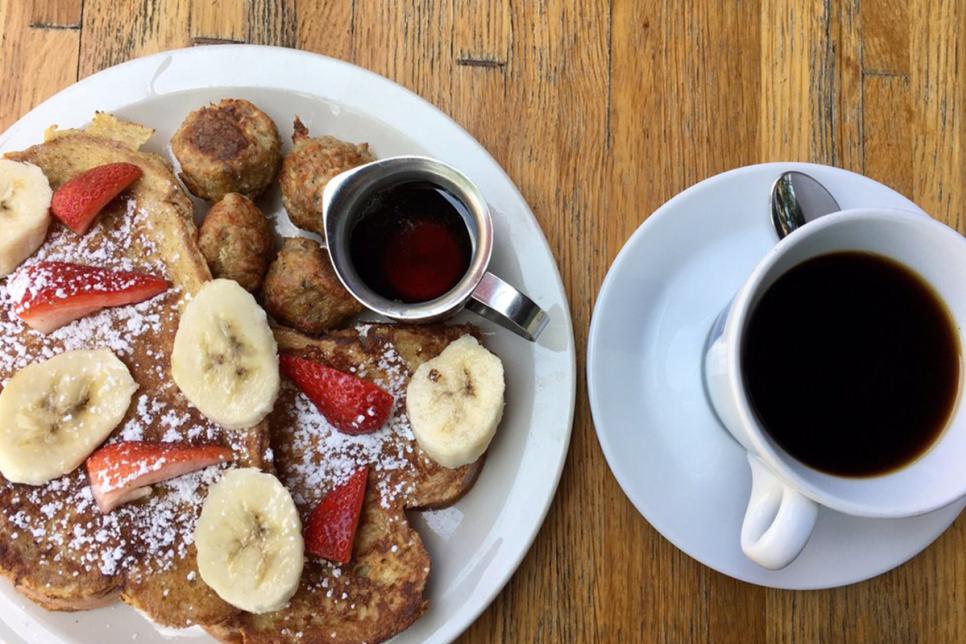 Photo by Yelper Sarah C.
12505 Old Meridian Street, Carmel
Brunch served daily, 10 a.m. – 3 p.m.
If you thought Mimi Blue Meatballs was just for lunch and dinner, think again. They serve up their take on brunch daily and Yelpers have taken note.
Popular Dishes
Pancake balls, breakfast sausage balls and biscuits & gravy.
Yelp Insight
"Delicious brunch! Great find and will be one of our family favorites...I had a meatball Benedict with perfectly poached eggs on hollandaise sauce. Atmosphere is beautiful with an old world urban feel." – Yelper Lourdes J.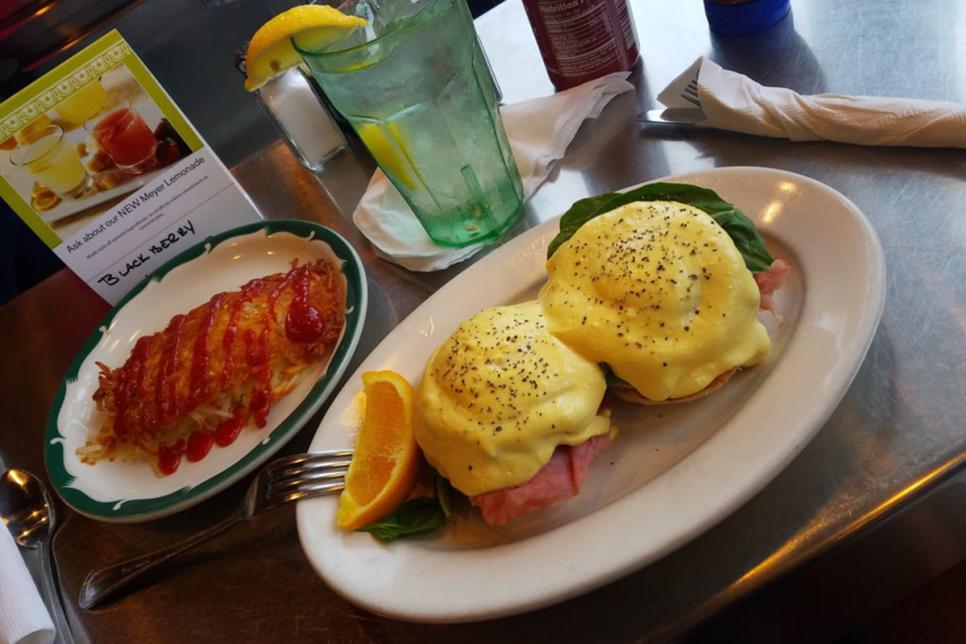 Photo by Yelper Jessica L.
809 Conner Street, Noblesville
Open daily, 6 a.m. – 2 p.m.
The loveable local diner Sunrise Café Uptown has been serving customers since the 1930s on the Historic Noblesville Square.
Popular Dishes
Cowboy benedict, Miller bowl and homemade strawberry jam.
Yelp Insight
"It's that small town café where everyone looks up, smiles and nods. I've loved coming to this café since I was a little girl, and while it has changed owners, the current owners have done an excellent job of maintaining that comfortable feeling. The food has never let me down, and I give them major props for catering to many types of dietary needs and appetites." – Yelper Janice B.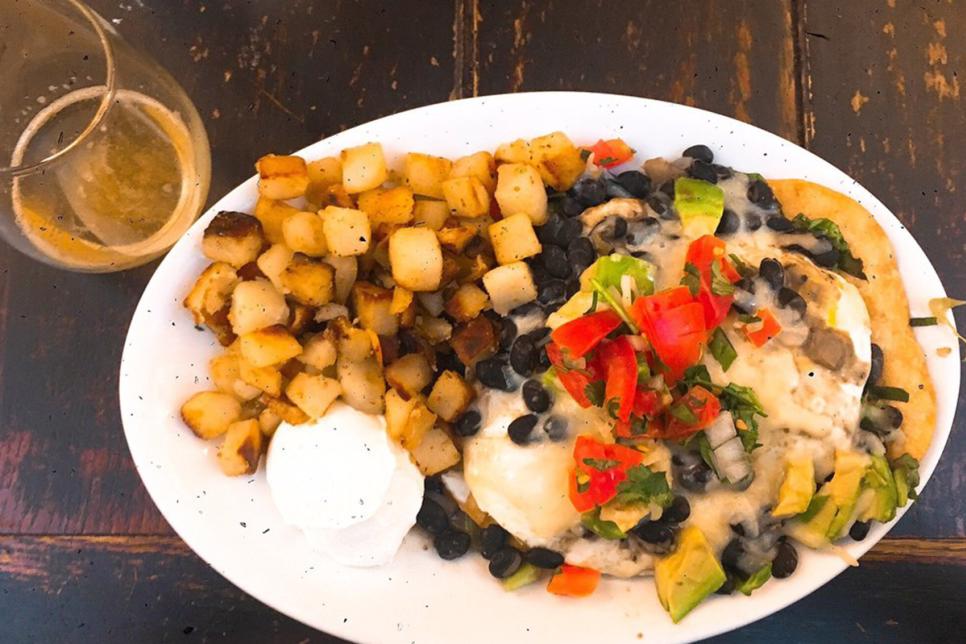 Photo by Yelper Komal S.
68 N. 9th Street, Noblesville
Monday – Friday, 7 a.m. – 3 p.m.
Saturday and Sunday, 8 a.m. – 2 p.m.
Ever since it opened in 2010, Rosie's Place has been a favorite in downtown Noblesville. We dare you to leave without trying their famous ooey gooey butter cookies.
Popular Dishes
Pork tenderloin benny, eggs blackstone and gooey butter cookies.
Yelp Insight
"Rosie's is an absolute staple. An institution. A must. There's no better brunch in Noblesville. And that's not just my bias speaking because my family goes here every Saturday....Rosie's Place is the boutique brunch spot you didn't realize you were missing out on. Their bakery is outstanding–the front glass cases and pie dishes filled with goodies will be a constant temptation." – Yelper David M.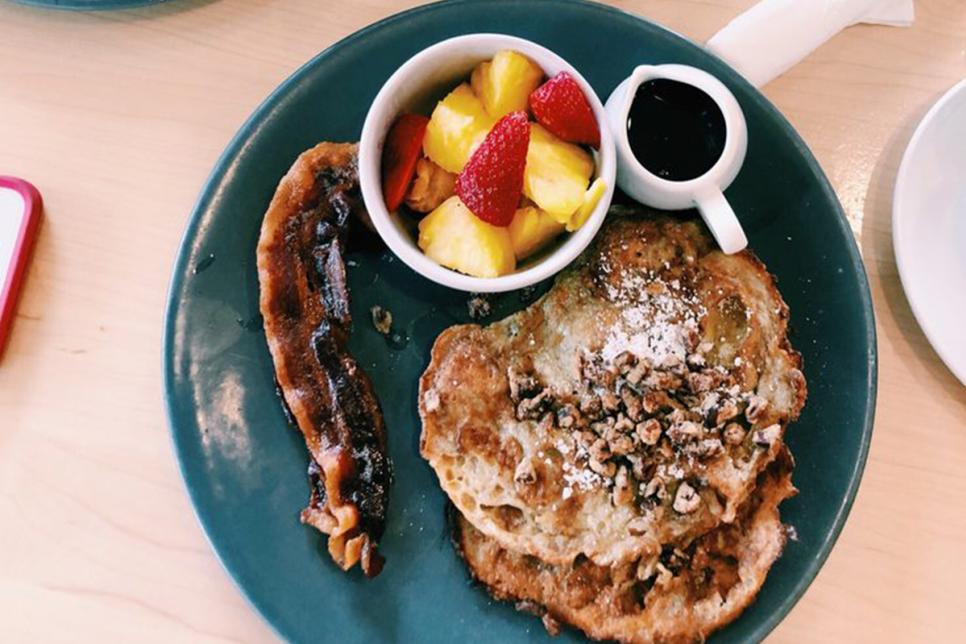 Photo by Yelper Megan M.
5790 E. Main Street, Carmel
Monday – Friday, 7 a.m. – 3 p.m.
Saturday and Sunday, 8 a.m. – 3 p.m.
Branded as a "student union for adults since 1989," Café Patachou remains a Central Indiana favorite.
Popular Dishes
Hippie with a Benz omelette, Cuban breakfast and cinnamon toast.
Yelp Insight
"Patachou has been my go-to breakfast and lunch café for 7+ years. The consistency is always spot-on, and I am continuously impressed by the freshness and high quality of the food, especially the fruit and greens." – Yelper Melissa S.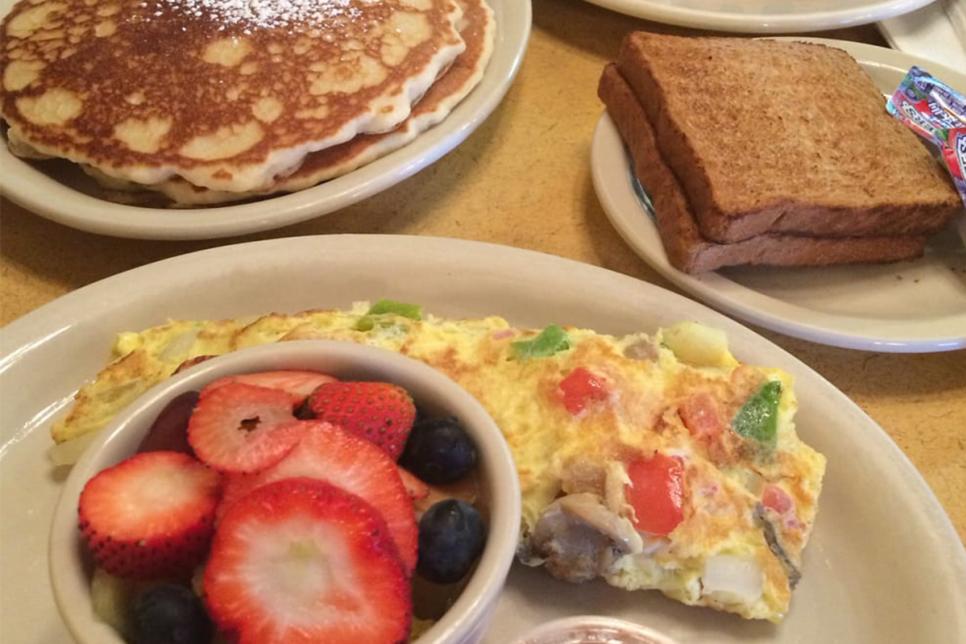 Photo by Yelper Linda L.
102 S. Union Street, Westfield
Tuesday – Sunday, 7 a.m. – 2 p.m.
Closed Monday
Located at Union Street and State Road 32 in downtown Westfield, Erika's Place has an old-school diner feel that will remind you of home.
Popular Dishes
Country fried steak and fried bologna.
Yelp Insight
"I love Erika's and feel it is one of the best kept breakfast secrets in town! My husband comes in here almost every weekend and we can't get enough. Neither can anyone that comes in from out of town to visit, Erika's is always a must visit on our guests' to-do lists. If you are a fan of GOOD biscuits and gravy, this is where it is at!!! I am incredibly picky about this type of dish and have never been disappointed." – Yelper Laura B.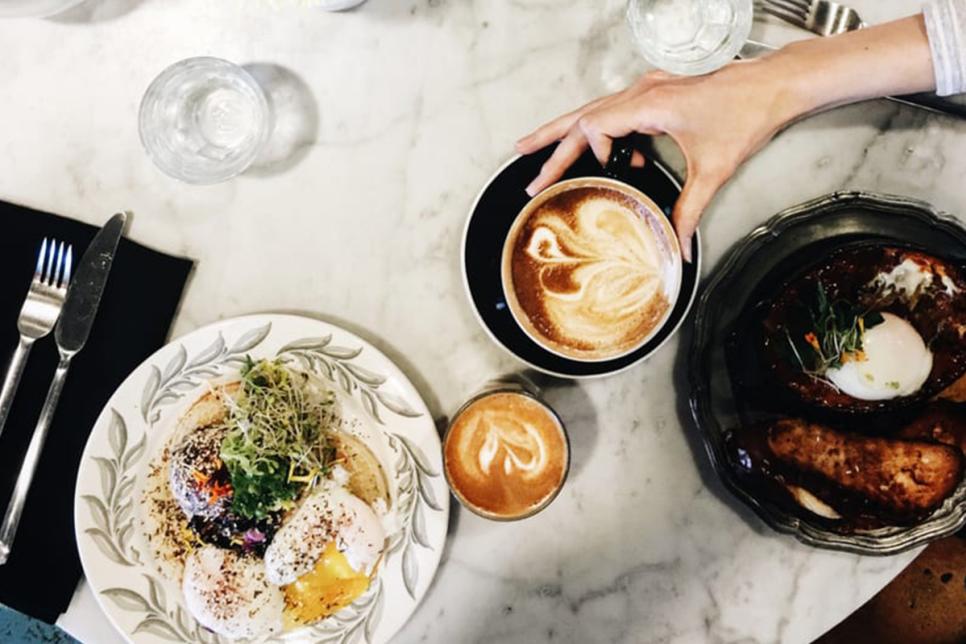 Photo by Yelper Ryan C.
51 W. City Center Drive, Carmel
Wednesday – Friday, 7 a.m. – 1 p.m.
Saturday and Sunday, 7 a.m. – 2 p.m.
Closed Monday and Tuesday
Chef Larry Hanes brings his design and innovation background to the restaurant scene with his unique and Instagram-worthy dishes at Eggshell Bistro.
Popular Dishes
Shakshuka, caprese strata and the polar opposite coffee drink.
Yelp Insight
"This isn't a place where your going to get served a grand slam, its more fine breakfast dining. Coffees are crafted, ingredients are important and the plates/flavors are complex. I took my family there for my birthday and we ordered 4 different plates, everything was amazing." – Yelper Gabriel S.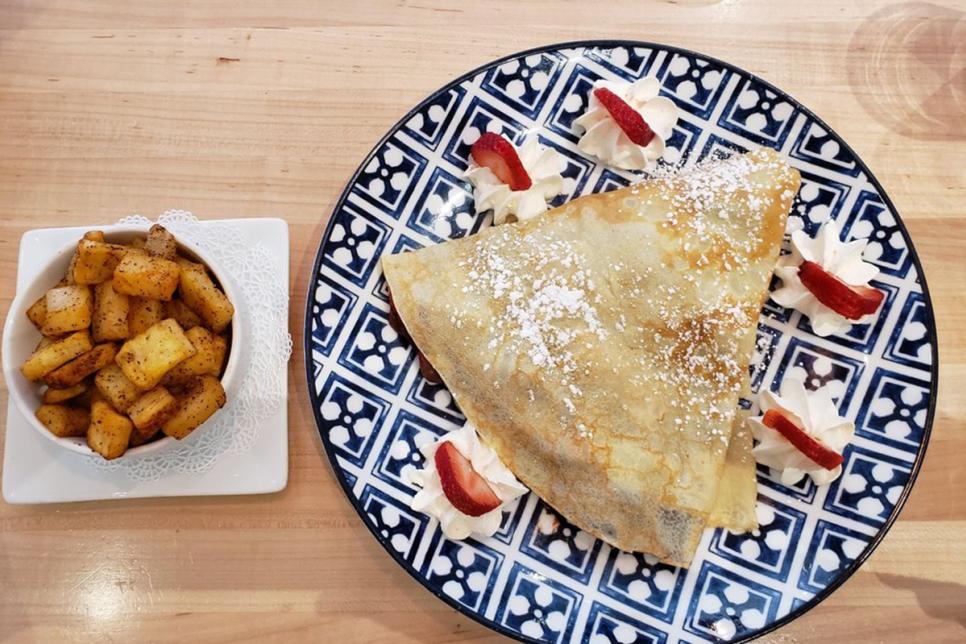 Photo by Yelper Jennifer A.
11529 Spring Mill Road Ste. 250, Carmel
Monday – Friday, 7 a.m. – 2:30 p.m.
Saturday and Sunday, 8 a.m. – 2:30 p.m.
Andrea and Emilio of Convivio opened a breakfast, brunch and lunch restaurant next door featuring authentic European dishes and Italian coffee.
Popular Dishes
Frittatas, crepes and Nutella mascarpone French toast.
Yelp Insight
"I had no preconceived notions before I stepped into Caffé Buondí, but I still was pleasantly surprised. There are plenty of gluten free options, especially for a café! The Italian influenced breakfast/lunch options were interesting and tasty. I went with a Buckwheat Galette with ham, Swiss and an over easy egg, with a side of roasted cauliflower and sweet potatoes." – Yelper Ellie T.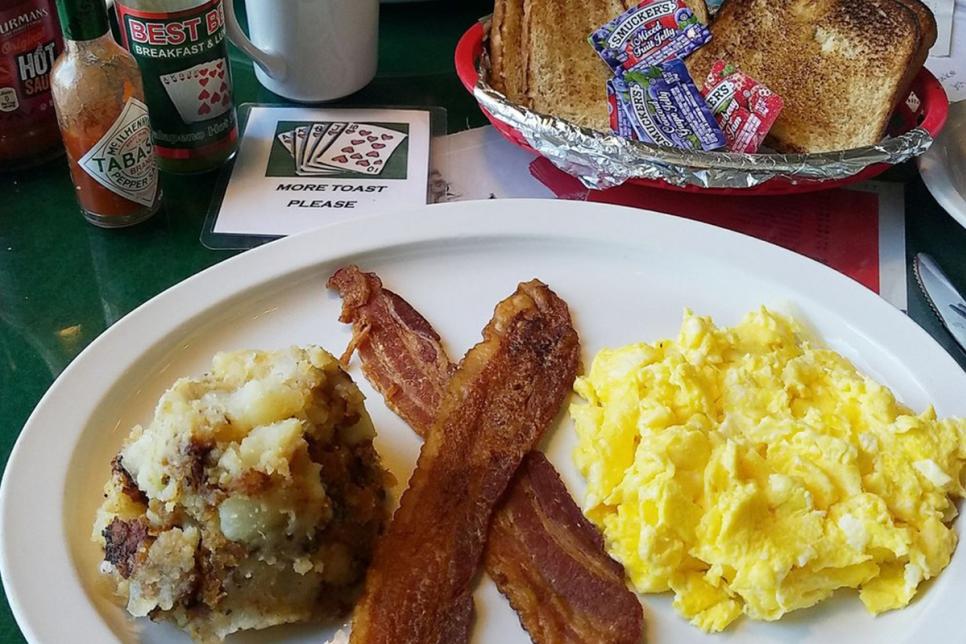 Photo by Yelper Brooke K.
14300 Mundy Drive Ste. 1300, Noblesville
Tuesday – Saturday, 7 a.m. – 2 p.m.
Sunday, 8 a.m. – 2 p.m.
Closed Monday
Take a spin to visit Best Bet Breakfast, a casino-themed diner with poker décor all around.
Popular Dishes
Eggs benedict and fried Ava taters.
Yelp Insight
"I don't give five stars very often. We had lunch at best bet breakfast and lunch today. Hands-down our waitress there is the friendliest and probably the most honest waitress that we have seen in a long time. We were greeted upon arrival and she was patient with us as we made our lunch selection. Upon finding that we were newbies to this restaurant she went through the menu and explained what their specialties were & what they were known for and which items not to miss." – Yelper Marley W.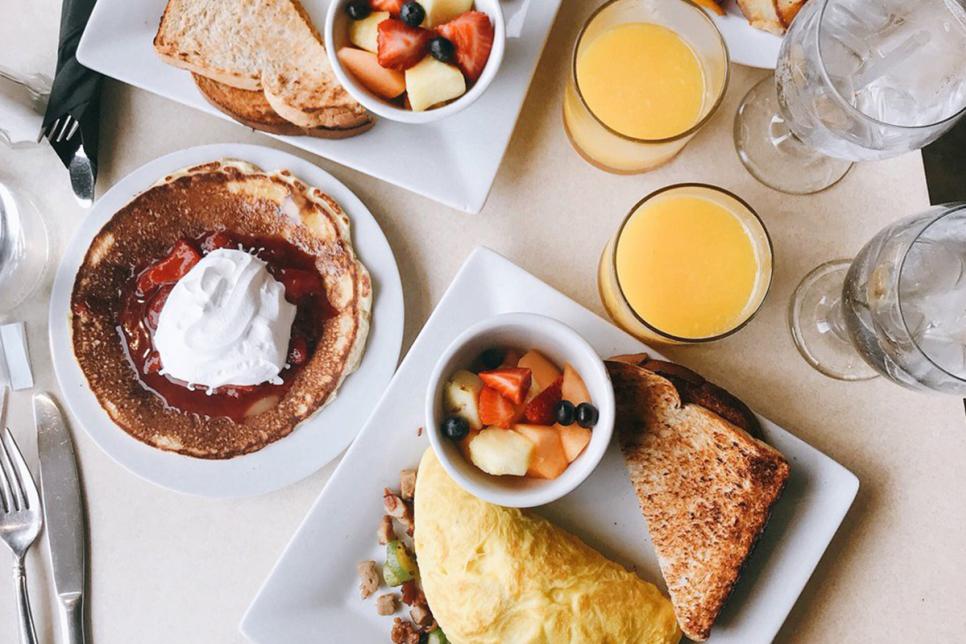 Photo by Yelper Faith B.
9840 N. Michigan Road, Carmel
Monday – Saturday, 8 a.m. – 2 p.m.
Sunday, 9 a.m. – 2 p.m.
A popular local caterer, Jacquie's also has a café just north of 96th Street and Michigan Road in west Carmel.
Popular Dishes
Lemon ricotta pancakes, croissant French toast and quiche.
Yelp Insight
"When's the last time you had a breakfast that made you say "Wow!"?  Bookmark this place while you can.  I have a feeling that the secret may be spreading soon!" – Yelper Ken N.
Use the map below for guidance as you eat your way through this list of restaurants. For even more dining options in Hamilton County, visit our restaurants page and be sure to follow us on Facebook, Twitter and Instagram.