With leaves changing from green to a broad spectrum of autumn hues, Indiana enters what many believe to be its most beautiful time of year. And while some leaf peepers plan long car rides to catch a glimpse of the changing seasons, Hamilton County, Indiana residents and visitors enjoy fall colors up close and at a slower pace by pedaling, jogging, and strolling on the Monon Trail.
Those who do take to the trail for fall outings will find that the Monon has been augmented over the last few years. Most notably, perhaps, a bridge opened over State Road 32 in Westfield – allowing for an easier connection to the recent extension to Sheridan – and Carmel added to the already impressive trail infrastructure in its Arts and Design District and Midtown.
Cruising, strolling, or running along the paved pathway that extends from 96th Street to Sheridan, trail users pass under long stretches of the leafy canopy as they make their way through a smoothly alternating mix of urban, suburban, park, and agricultural landscapes. Even on the longest adventures, folks who get out on the Monon are never far from nature, refreshments, places to take a rest, shopping opportunities, cultural amenities, and more, and they're sure to find plenty of colorful leaves overhead, underfoot, and all around.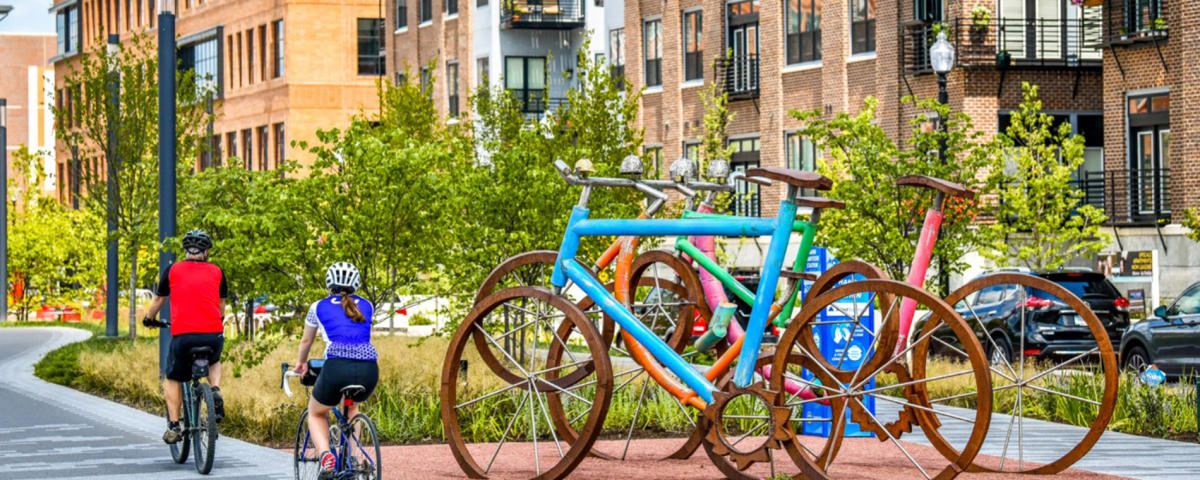 How to Access the Monon Trail
You can access the Monon from any number of places, but if you want a starting point with plenty of parking, restrooms, and other amenities, choose from the trailheads at 96th Street, Carmel's Central Park, Rohrer Road, Greyhound Pass, Quaker Park just off of State Road 32 and around Westfield's Grand Park Sports Campus. The best part? All of these places give you a great place to begin your leaf peeping, as they're all located near long sections of tree-lined trail. You'll feel like you're passing through an autumnal tunnel.
Take a look at this Monon Trail map to see what attractions might prompt you to choose one location over another, and then start your adventure. Plan for a long experience or a short one; with more than 20 miles of things to see and do and lots of starting, stopping, and diverting options, you can spend as much or as little time on the trail as you want.
Monon Trail Bridge in Westfield
For many trail users, the extension from Grand Park to Sheridan still seems new, and it did add fresh terrain to the trail experience by coursing through farm fields that previously had been just beyond the trail's end. Bordered by a stirring array of oaks, elms, maples, and more, the farm fields offer up their own changing fall pallet as crops fully ripen and get harvested and the fields begin to settle in for the winter.
Just south of Grand Park – which Westfield Mayor Andy Cook likes to call "America's biggest playground" – Westfield put that agricultural wonderland within reach of more trail users by installing a new bridge over State Road 32. The more than 800-foot-long bridge arcs gracefully over the five-lane state highway, making for a smooth crossing for foot and bike traffic. The bridge also makes it easy to access a number of eateries at the busy crossroads, including Grindstone on the Monon, where an outdoor patio tucked away from the bustling roadway gives you a front-row seat to Monon users and fall colors.
Turn onto the trail that heads into the city of Westfield, and you'll find even more eateries, from the casual slices at Jan's Village Pizza Westfield to the higher-end Italian cuisine at The Italian House on Park.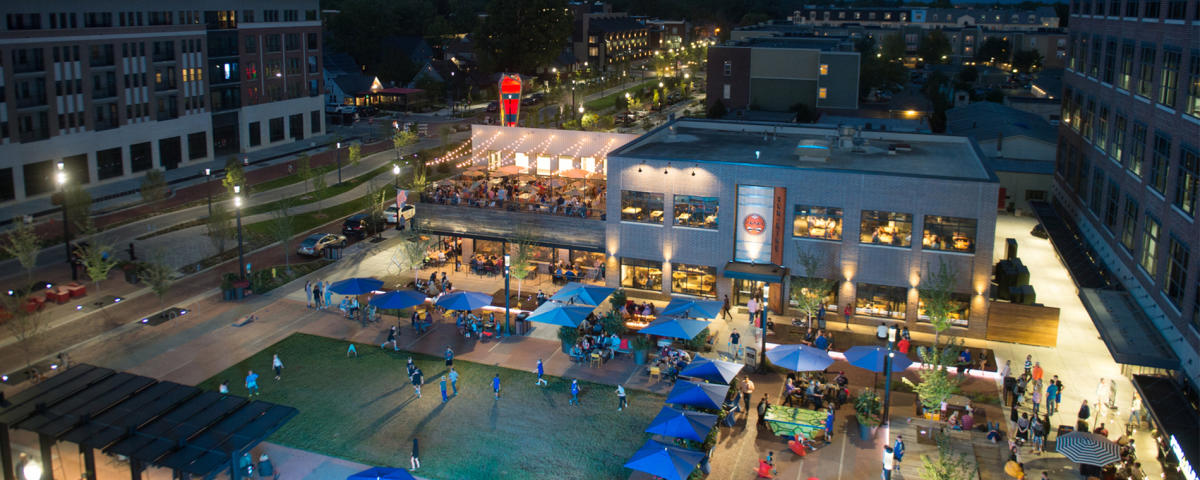 Monon Trail Amenities in Carmel
Farther south, Carmel's been working hard to upgrade the Monon in its neck of the woods. Noting that his city can't boast such natural amenities as mountains or oceans, Carmel Mayor Jim Brainard says the city has made the Monon Trail a chief attraction. "This is our beachfront property," he says.
And the city has made the most of its "beachfront." In 2020, Carmel put the finishing touches on $23 million in improvements, including adding new pathways through the Arts and Design District and Midtown. The resulting 140-foot-wide "multi-modal boulevard" offers separate trails for pedestrians and cyclists, and also adds new artwork and other amenities. Along the trail, the city added water features and more seating options, too. The results have been an even better experience for those spending time in or passing through Carmel on the Monon.
It also, of course, has created an even more inviting way to access the city's amenities, including Hotel Carmichael, which sits immediately adjacent to the trail near the Center for the Performing Arts. A short distance away, Sun King Carmel offers food and drink from four restaurant partners in a dining-hall setting, along with fun and games for the whole family. For something a little more upscale, shoot across the trail to Anthony's Chophouse and dig into a steak served up in a high-style setting. If you're just looking for a cup o' joe to take off a little of the fall chill, stop by Java House Coffee Bar, where a patio seating area lets you keep the outdoor vibe going while you sip your coffee.
If you don't have a bike with you, rent one from Carmel Bike Share. There are several bike share stations conveniently located near the Monon Trail.
Interested in seeing the fall colors at a bike's pace but not sure you're up for all that pedaling? No problem: Pedego Electric Bikes Carmel will set you up with a set of wheels that will do most of the work.